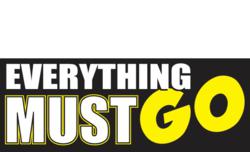 available in a full range of sizes – including custom sizes
Glendale, California (PRWEB) May 10, 2013
DPS announces the newest additions to their banner sign templates category. They welcome two variations on the "Everything Must Go" banner signs. These new templates are an accumulation of proven color trends and fonts that are most likely to grab potential customer's attention within the inventory carrying sector.
The first selection, Everything Must Go Banner Sign 1000, uses white and yellow text on a black background which makes the message stand out strong. The banner can be purchased on a small or large scale. The second selection incorporates the color red to stress the word "everything." Like all banners on the DPSBanners.com site, it is available in a full range of sizes – including custom sizes.
Digital Pre-Press Services, Inc. keeps the sale banners selection fresh on a consistent basis. This offers companies the opportunity to renew their advertising campaign regularly. To keep up with the newest products and designs from the DPS company, follow DPS on Facebook, Twitter and also by RSS feed. DPS also regularly posts savings to their customers through these media outlets.
For more information on the Everything Must Go banner signs, or to purchase products from Digital Pre Press Services, Inc., please visit: http://www.dpsbanners.com/everything-must-go/
About Digital Pre-Press Services, Inc.:
Founded in 1996, Digital Pre-Press Services, Inc. is visible online at DPSBanners.com and on location in Glendale, California. The company provides simple, affordable and professionally designed banners that can be personalized and customized exclusively online. Through the site, DPS has a wide array of products including truss displays, banner stands, window clings, car magnets, retractable banner stands, sidewalk signs, pre-designed banners, and more.
Contact:
Digital Pre-Press Services, Inc.
Toll Free (888) 790-2665
Local (818) 240-2004
Fax (818) 240-3456
###