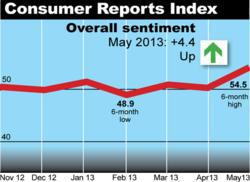 The recession has had a long tail that continues to burden lower-income families disproportionately. Improving sentiment among that group indicates that they are starting to feel better about the days ahead
YONKERS, NY (PRWEB) May 07, 2013
After months of teetering between positive and negative territory, the Consumer Reports Index's sentiment measure leapt to it highest level since 2008.
The Consumer Reports Index, an overall measure of Americans' personal financial health, shows that consumer sentiment now stands at 54.5, up from 50.1 last month. The improvement was broad-based, crossing all income and education groups, but the greatest gain was among lower-income consumers in households earning less than $50,000.
The rise in sentiment was accompanied by a decline in the level of financial troubles reported by consumers. The Consumer Reports Index's trouble tracker measure dipped to 41.7 from 42.3 the prior month. The only income segment that experienced a slight rise in difficulties was Americans in households earning less than $50,000. Amidst this overall decline in financial troubles, the proportion of consumers that were unable to afford medical bills or medications has been on the rise, reaching 14.1 percent this month, up from 12.4 percent in March.
"It has been a real positive month for a lot of Americans. The recession has had a long tail that continues to burden lower-income families disproportionately. Improving sentiment among that group indicates that they are starting to feel better about the days ahead," said Ed Farrell, director of consumer insight at the Consumer Reports National Research Center.
Retail numbers have not yet seen the benefit from this rise in consumer sentiment and declining financial difficulties. The index's past 30-day retail measure shows that spending activity has slumped to its lowest level since October 2008, posting its fourth straight month of decline and now standing at 8.7, down from 9.6 the prior month. This decline was led by a softening in two high-ticket categories, major appliances and major home electronics.
The Index's employment measure was little changed this month, dipping slightly to 50.3 from 50.8 a month earlier. This dip was attributable to a decline in the proportion of Americans starting a new job in the past 30 days rather than job losses, as job gains outpaced job losses by a narrow margin. The burden of worsening job prospects was carried by Americans in households earning less than $50,000, a group that shed more jobs than it gained in the past 30 days.
"With the rollercoaster ride that has defined the consumer's experience of the recovery, hesitancy to spend may be a rational outcome. It is likely to take several months of improving prospects and a strengthened job outlook before consumers fully engage," Farrell said.
The index's stress measure showed the level of stress that consumers feel declined to 53.8 from 56.5 last month. The most stressed Americans: women (56.5), those in households earning under $50,000 (56.0), aged 18-34 (55.6), and those in the West (57.8).
The Consumer Reports Index report, available at http://www.ConsumerReports.org, comprises responses directly from consumers on five key measures: the Sentiment Index, the Trouble Tracker Index, the Stress Index, the Retail Index and the Employment Index.
The Consumer Reports Index, conducted by the Consumer Reports National Research Center, is a monthly telephone and cell phone poll of a nationally representative probability sample of American adults. A total of 1,008 interviews were completed (658 telephone and 350 cell phone) among adults aged 18+. Interviewing took place between April 25 and April 28. The margin of error is +/- 3.2 percentage points at a 95% confidence level.
The complete index report, methodology and tabular information are available. Contact: C. Matt Fields, 914-378-2454, CFields(at)consumer(dot)org.
— 30 —
MAY 2013
© 2013 Consumer Reports. The material above is intended for legitimate news entities only; it may not be used for advertising or promotional purposes. Consumer Reports® is an expert, independent nonprofit organization whose mission is to work for a fair, just, and safe marketplace for all consumers and to empower consumers to protect themselves. We accept no advertising and pay for all the products we test. We are not beholden to any commercial interest. Our income is derived from the sale of Consumer Reports®, ConsumerReports.org® and our other publications and information products, services, fees, and noncommercial contributions and grants. Our Ratings and reports are intended solely for the use of our readers. Neither the Ratings nor the reports may be used in advertising or for any other commercial purpose without our permission. Consumer Reports will take all steps open to it to prevent commercial use of its materials, its name, or the name of Consumer Reports®.