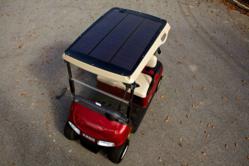 "We know that the market is there and with this new website we want to aggressively go after it."
Ames, IA (PRWEB) May 07, 2013
PowerFilm, Inc. today announced the launch of a direct to consumer sales channel for golf and RV solar panels with the release of a new e-commerce website.
The solar panels kits are designed to trickle charge the batteries in both electric golf cars and RVs. The golf cart panels provide constant charging to the batteries during the day, aiding it to go further on a single charge and maintaining the batteries for better health. Testing results indicate a high probability of extending battery life up to two years while reducing the amount of electricity needed to charge the cart overnight. The PowerFilm RV panels also provide a trickle charge to the existing electrical system in an RV and offset much of the parasitic load occurring, such as lights, clocks, and other electronics.
"We are excited to open up the new channel for our customers," said Director of Recreational Products, Chad West. "PowerFilm has never before taken a direct route to the end user and we feel like taking this step with the RV and Golf solar kits makes us more competitive. The market has been telling us that at the right price our solar is a great solution, we've listened."
The new e-commerce website will feature solar golf kits for E-Z-GO® and Club Car® golf cars and a universal model for all other electric cars, with both 36 volt and 48 volt options. In addition, the website will also offer a 60 watt and a 42 watt solar kit for RVs. Where more power is desired for RVs multiple panels can be easily daisy-chained together.
All solar kits offered on the website will be an easy, do-it-yourself installation that does not require any special electrical expertise or mounting equipment.
"We have been developing and perfecting our solar kits for the RV and Golf markets for over two years," said Vice President of Sales and Marketing, Ron Mason. "We've known that the market is there and with this new website we want to aggressively go after it."
The website is active now and all products are immediately available and can be found here: http://www.powerfilmsolar.com/shop/.
About PowerFilm
PowerFilm, Inc. was founded in 1988 and is a world-leading developer and manufacturer of thin, flexible solar modules using a proprietary production process. The company's primary objectives are to partner with select organizations to service portable and remote solar power applications and the building integrated solar power market. For more information, visit http://www.powerfilmsolar.com.
For more information, please contact:
Chad West, Director of Recreational Products
515-292-7606 x137
cwest(at)powerfilmsolar(dot)com
Ron Mason, Vice President of Sales and Marketing
515-292-7606 x136
rmason(at)powerfilmsolar(dot)com