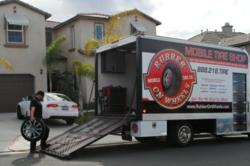 "When you need new tires, why spend the day at the tire store? Save time and money with Rubber On Wheels mobile tire shop.
Premium service at an affordable price."
Orange, California (PRWEB) May 08, 2013
Rubber on Wheels, a mobile tire shop, is expanding services to Orange County, California. Currently servicing Riverside County and the surrounding area, Rubber On Wheels has chosen Orange County for its second location. The overall vision is to expand services throughout Southern California within the next year. Finding great deals at local tire stores in Orange County just got easier!
Rubber On Wheels makes getting new tires simple, easy, and convenient. Whether it's a single tire or a new set of tires, Rubber On Wheels makes getting new tires easy, affordable, and stress-free. A tire technician will respond to the customer's call, make an appointment, and then arrive as scheduled at the customer's home, office, shopping center, or wherever works best for the convenience of the customer. The tire technician will arrive fully equipped with the right tires for their specific vehicle. In a short period of time, the customer will have their new tires installed, mounted and balanced on site.
Rubber On Wheels services cars, trucks, RVs and trailers, so no matter what the vehicle, when new tires are needed, Rubber On Wheels is the best, cost effective and convenient, solution. Rubber On Wheels solves the tire needs of individuals, businesses, fleets, RV communities, and trailer communities throughout Riverside County and Orange County California.
Rubber On Wheels makes getting new tires in Orange County fast, affordable and efficient. How do they do it? This mobile tire service has a team of experts with several years of experience. They will personalize services to fit the needs of the customer. Businesses with a fleet of cars, vans, or trucks, such as landscape businesses, pest control, HVAC, taxis and plumbing companies all typically need more than just tires; they need ongoing tire service, and Rubber On Wheels can accommodate those needs. Before Rubber On Wheels comes out to the location, they thoroughly explain the process, pricing and they always give an accurate "out-the-door" price. No need to worry about additional costs, hidden fees or extra unplanned charges, which is often seen at regular local tire shops. If the customer doesn't know what tires they need, no worries. Rubber On Wheels will help them with that before they arrive on location. Their service is built around helping the customer, and providing the best possible customer experience.
With Rubber on Wheels, there are no unpleasant surprises, and never any hidden charges. First time customers are surprised when they discover that this convenient mobile tire service is often lower cost than the local tire shop! Premium service at regular prices!
These tire technicians work quickly, yet carefully. No need to worry, they will treat all vehicles with quality care. They welcome questions or comments, and work to create the best possible customer experience since they understand that the best advertising comes from the referrals of many satisfied customers!
Rubber On Wheels is now both a Riverside County and Orange County, California-based mobile tire service, serving both residential and commercial customers. Originally established in 2007, Rubber On Wheels is pleased to be expanding to Orange County!
For more information, visit RubberOnWheels.com
or call toll-free (888) 218-TIRE (that's 888-218-8473) to speak with a professional representative who can answer your questions.