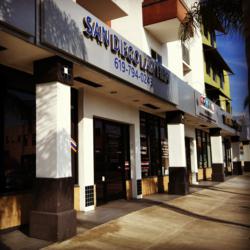 We are honored to have been selected for this award for the third year in a row!
San Diego, CA (PRWEB) May 29, 2013
The modern world has acquired knowledge about our environment that previous generations did not have the benefit of knowing. Our presence on this earth has created discord with our ever diminishing natural surroundings and resources. San Diego Law Firm works to create harmony again.
For several years, San Diego Law Firm has strived to reduce its impact on Mother Nature and has been recognized (yet again) for its effort. The City of San Diego has selected San Diego Law Firm as one of this year's Director's Recycling Award winners! This honor is awarded by the City of San Diego's Environmental Services Department to those companies whose daily efforts to reduce waste, recycle and create a greener company serve as a model for other local businesses to follow.
San Diego Law Firm is a paperless law firm that makes use of modern technology to facilitate fast communication, efficient document storage, and an ecologically sound system of operations which eliminates the need for literally tons of paper. The recycling program in the office makes use of designated bins for recycling and we eliminate waste where ever possible. While contributing it efforts to reducing waste and creating a greener company, the firm has also seen significant savings in its cost of operation and an increase its productivity. We are all very proud to contribute to the stream of ecological thinking and awareness while we help our clients in our practice of law. We are proud and honored to have this award from America's Finest City.
About San Diego Law Firm
Situated in the North Park neighborhood of San Diego, San Diego Law Firm is known in the business world for its superior ethics, as appreciated by Better Business Bureau. San Diego Law Firm specializes in legal services that ensure their clients are protected through all of life's unpredictable turns, such as bankruptcy, business law, divorce, custody and support, accidents, injuries, disputes and lawsuits, real estate law, Medi-Cal planning, trusts, probate and wills. San Diego Law Firm offers fixed fees to all of the firm's clients, for any service. To get more information regarding San Diego Law Firm's services, visit http://www.sandiegolawfirm.com or find the company on Facebook, Twitter and YouTube, and engage with San Diego Law Firm experts via LinkedIn and Google+.