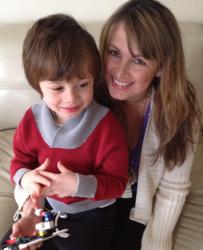 Pleygo is a Netflix-like LEGO rental service that saves parents money and helps kids develop important life skills
New York, NY (PRWEB) May 07, 2013
When Elina Furman, a mother of a five year old boy who loves to build Lego sets, found her closets full of Lego sets and her bank records showing nearly $5,000 spent on Lego products, she knew she had to find a solution.
"It became ridiculous; on the one hand my house was overrun with Lego creations; I found Lego pieces under the bed, in between couch cushions and the packages jammed my storage room. And, on the other hand, my son got bored with the sets he already built. He continued to ask for the newest sets but, unfortunately, my bank account couldn't afford them anymore!" In response to this growing problem, Elina founded Pleygo.com, a Netflix-like service for Lego sets which provides kids and adults an unlimited access to the Lego universe at a minimal cost.
"Pleygo is designed to give parents and children the opportunity to borrow and play with new Lego sets and ones owned by other families," Elina said. By renting Lego sets, parents save money and kids develop important life skills. Elina said this allows her children to enjoy the challenge and entertainment of new Lego sets, without breaking the bank.
For a monthly price as low as $15, Pleygo makes it possible for kids of all ages to build their favorite Lego creations without having to actually purchase them. This saves hundreds of dollars per year in toys that are used, then neglected. All Pleygo sets are guaranteed to come completely ready to play with all the pieces and full building instructions. Every set is cleaned and sanitized between each use to ensure it is safe and ready to play and shipping is free so busy moms can get it to their door and ship it back using regular mail.
Pleygo, backed by Stonehome Capital, a New York based venture capital firm, is easy to join and simple to use. It is also a great gift idea for grandparents or friends who want to give kids something that will continue to give all year long. After logging into the website and creating a wishlist from the vast inventory of available sets, Pleygo does all the work and ships parents the first set on their children's wishlist. Once done with the set, send it back in the pre-paid box, and the next set will be on its way.
In a world of increasing virtual games, many educational toys are being pushed aside for tablet and video games. Lego sets continue to be one of the most popular toys among kids of all ages with 72% of families in the U.S. owning at least one set. Lego has been proven to help children to develop their imagination, concentration and fine motor skills.
With the introduction of Pleygo, children can continue to make and build Lego creations and expand their skills with a steady stream of new Lego sets while parents enjoy some piece of mind and significant savings of time, space and money.
To join this exciting service and learn more about Pleygo, visit http://www.pleygo.com.