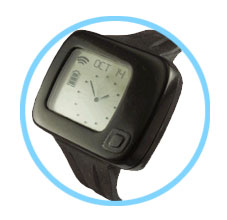 Tel-Tron to provide best-in-class fall detection and health monitoring through its CompanionOne® wireless emergency call system.
Daytona Beach, FL (PRWEB) May 07, 2013
Tel-Tron Technologies Corporation, a technology leader in the business of aging, today announced it is partnering with AFrame Digital, to provide best-in-class fall detection and health monitoring through its CompanionOne® wireless emergency call system.
AFrame's MobileCare Monitor℠ system includes a wristwatch-based monitor that detects fall-related impacts, continuously gathers activity-related data and determines the user's location. It can also send a discreet alert if someone is not wearing the device. MobileCare Monitor combines these data with vital sign data obtained from wireless Class II FDA-cleared devices – including Bluetooth-enabled glucometers, pulse oximeters, weight scales and blood pressure cuffs – to form a comprehensive model of each individual's wellness baseline. If a person wearing the device experiences a fall, or has a vital sign reading outside their personal baseline or target range, for example, MobileCare Monitor will generate an alert in real-time to caregivers through their mobile communications device of choice.
"We are very pleased to have AFrame Digital as a partner" says Tel-Tron CEO Brian Dawson. "We have been looking at several products in the fall detection space and AFrame Digital's product clearly delivers on its promises of accurate and timely fall detection and beyond. Our clients are going to love this new capability which will seamlessly integrate with our wireless emergency call system."
"AFrame Digital's mission is to engage elderly adults and other at-risk individuals in their own care, and help them live as independently and safely as possible. We are pleased to partner with Tel-Tron, which shares this mission, says AFrame Digital CEO Cindy Crump.
Tel-Tron and AFrame Digital will be exhibiting together May 7-8 at the Assisted Living Federation of America (ALFA) annual conference in Charlotte, NC. You can visit them on the tradeshow floor of the Charlotte Convention Center in booth 204.
About AFrame Digital, Inc.
AFrame Digital provides advanced telemonitoring solutions that protect the safety and health of patients and residents in hospital, long-term care, senior living and home settings. Its industry-leading FDA-cleared MobileCare Monitor℠ system provides continuous monitoring of seniors, patients managing chronic conditions and other at-risk individuals as they go about their daily activities,. AFrame Digital is the recipient of multiple industry awards, including the Cellular Technology Industry Association's Emerging Technology Award for Health and Wellness Solutions (Enterprise Class), the Northern Virginia Technology Council's Destination Innovation Award for Small Business and the Virginia Commonwealth Research Commercialization Fund.
About Tel-Tron Technologies
Tel-Tron Technologies Corporation helps senior living operators run a better business by improving resident lifestyle, optimizing staff performance, and lowering operating costs. By blending next-generation emergency call system and communications technologies with specialty expertise, Tel-Tron enables senior living companies to achieve the outcomes that are critical to their success, and provide peace of mind for their residents and their residents' families.