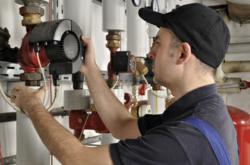 Vancouver, BC (PRWEB) May 07, 2013
Vancouver has a wide variety of heating and plumbing services; however, a prominent name out of all these companies is that of Pro Ace Heating and Plumbing. The company has been serving Metro Vancouver for almost two decades with skilled technicians, certified services and technological know-how. In all its years in the city, Pro Ace has successfully accumulated a portfolio of 75,000 customers that are highly satisfied with the company's service and price.
How is Pro Ace different?
The company takes immense pride in the technological edge it has acquired in all its countless years of devoted service. This Vancouver heating company is the only one that incorporates the high-tech tablet technology, which allows Pro Ace to do a detailed inspection and maintain a constant connection with the headquarters for expert consultation for premium solutions for clients.
The exhaustive inspection by Pro Ace consists of a 40-question checklist that is more thorough and detailed than that of any competitor's. By offering a clear and reliable diagnosis, the company's inspection standards exceed the BC Safety Authority checklist, making Pro Ace an efficient, trustworthy and premium service provider.
What services does Pro Ace offer?
Pro Ace provides one of the finest Heating Repairs in Vancouver with its team of highly qualified technicians and support squad. Installations, repairs, maintenance, cleaning and replacement comprise the service portfolio of Pro Ace, with an exemplary expertise in the following:

Furnace, boiler and heat pump installation.
Hot water tanks, tank-less water heaters and gas fireplaces.
Air conditioning, pool heating and general plumbing.
Dryer vent and duct vent cleaning.
HVAC and DFMA servicing.
Rooftop servicing and maintenance.
In order to get in touch with Pro Ace Heating and Plumbing, visit their website http://www.acecare.ca or call a representative at 604-293-3770. The company provides heating repairs in Vancouver by offering free quotes and estimates with no obligations. The bonded, insured and certified heating and plumbing services by the company can be availed on the web page http://www.acecare.ca.