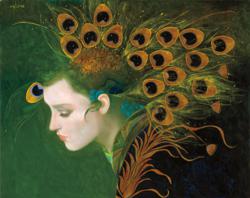 Inspiration is brought together by the feminine figure, Shaped as a Goddess, she initiates the MIracle". - Felix Mas
Greenwich, CT (PRWEB) May 08, 2013
Martin Lawrence Galleries, the nation's premier network of fine art galleries, invites you to spend an evening being charmed by renowned Spanish artist, Felix Mas. For more than 40 years, Mas has captivated the world's attention with his lyrical works that celebrate the beauty of the female form.
Mr. Mas will be available to meet collectors, discuss his artwork and dedicate purchased serigraphs and paintings at the following Martin Lawrence locations:
Friday, May 3rd
South Coast Plaza, Costa Mesa, CA
7:00-9:00 pm
RSVP: 949-759-0134
Saturday, May 4th
1111 Prospect Street
La Jolla, CA
6:00-9:00 pm
RSVP: 858-551-1122
Sunday, May 5th
366 Geary Street
San Francisco, CA
2:00-4:00 pm
Friday, May 10th
790 Front Street
Lahaina (Maui), HI
RSVP: 808-661-1788
Friday, May 17th
182 Oak Brook Center
Oak Brook, IL
RSVP: 630-954-3033
The newest original oil on canvas paintings will be unveiled at the exhibitions along with the collection of hand signed limited edition serigraphs on canvas. Many of the new works feature Asian inspired elements such as kimonos, birds and fans which have long inspired the artist due to their opulence, sensuality and elegance. "Original paintings and serigraphs on canvas by Felix Mas are renowned for their exquisite detail and luminous color. Pre-sales have been vigorous and collectors are encouraged to acquire early at these events", states Eric Dannemann, President of Martin Lawrence Galleries.
Mr. Mas, who hails from Barcelona trained at the Artes y Oficios and the Escuela Superior de San Jorge. He has previously had five extremely successful tours of the United States beginning in 2008. He enjoys working in his studio where he laboriously creates his own colors using natural pigments. In the background, he enjoys playing classical music as he paints and says he "strives to become an "Artist" in its most complete and absolute meaning."
Founded in 1975, Martin Lawrence Galleries are distinguished in their commitment to offering the very best by modern masters and major contemporary artists such as Picasso, Chagall, Rembrandt, Warhol, Haring, Erté, Liudmila Kondakova, Robert Deyber, Philippe Bertho, Kerry Hallam, Douglas Hofmann, François Fressinier and many others. They have loaned nearly 250 artworks to over 30 museums around the world, including the Whitney Museum of American Art, the National Gallery of Art in Washington, D.C. and the Museu Picasso in Barcelona, Spain.
For more information on the Felix Mas Tour, please visit http://www.martinlawrence.com.
Follow us on twitter.com/TweetMLG