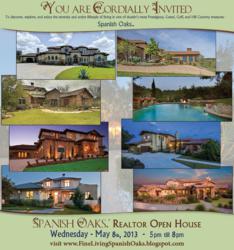 Inviting other Realtors to view a home allows them to learn about a home's features and share their personal knowledge with home buyers instead of peripheral knowledge.
Austin, TX (PRWEB) May 07, 2013
Luxury Realtors and their home buyers will enjoy hors d'oeuvres and wine while viewing 12 individually unique homes in the Spanish Oaks' gated, golf course community this Wednesday, May 8, from 5 till 8 pm, during an Invitation Only Realtor Open House coordinated by Shannon T. Schmitz with the Shannon Schmitz Group of Austin Portfolio Real Estate.
"Open houses help bring in buyers, at least in most cases, but when a home owners' associations have limits for such public access then we have to be creative in how we market homes priced over $1 million," replied Kimberly Montonati with the Shannon Schmitz Group. "Invitation only events, such as this one, comply with the HOA's rules and are the perfect venue for featuring homes to other realtors and qualified home buyers."
The power of presenting multiple homes during such events has proven success, even though there is considerable coordination involved. Every realtor with a listing in Spanish Oaks was invited to participate, but those with the highest sales volumes in selling Spanish Oaks real estate were the ones who set about working together for the benefit of their home sellers, thus furthering their reputations of building relationships to sell real estate.
"Real estate professionals believe in working together," said Shannon Schmitx, "as through making strong connections with others in our communities, we can help our home sellers. Inviting other realtors to view a home allows them to learn about a home's features and share their personal knowledge with home buyers instead of peripheral knowledge. Kimberly and I both live in Spanish Oaks and this allows us detailed knowledge of our community."
Realtors are in the business of making connections. Such connections are an important component of a realtor's ability to sell a home. "I'm excited to work with Shannon and the other realtors to showcase our Spanish Oaks listings," remarked Sandy Cary, one of the participating realtors. "Most of us involved have well established professional relationships with each other and all of us have strong reputations of selling Spanish Oaks real estate."
These masterpieces in architectural design include dramatic pools, awe-inspiring views, golf course frontage, rainwater collection systems, and the security of living in one of Austin's most notable private communities. The custom, well-crafted, and unique homes being presented range in price from $685,000 (one of the luxury townhouse style condos) to $3,395,000 (a spacious 8,429 square foot estate home). The old adage of "seeing is believing" has never been truer concerning these luxury homes. If you are relocating to Austin, considering a second home in Austin, or are living in Austin and ready to move into a new residence and are interested in receiving an invitation for this private event, please contact any of the participating realtors.
Not included in this event, but available for viewing are custom home lots to construct your own architecturally designed home in Spanish Oaks, many range in size, location, and benefits. Not every home or lot in Spanish Oaks is listed in the MLS; some are offered only via Private Sale, further emphasizing the need for realtors to network and communicate new homes available for sale in their market.
"This is a must attend event," stated Shannon Schmitz, "especially if you are a Realtor with home buyers considering Spanish Oaks or are a home buyer interested in knowing more about the homes available in Spanish Oaks."
For more information about the homes being showcased, please visit the Fine Living Spanish Oaks Blog or any of the participating Realtor's websites.
Participating realtors include:
Shannon T. Schmitz and Kimberly Montonati, Shannon Schmitz Group of Austin Portfolio Real Estate
Chris Long, Gottesman Residential
Mary Hickey, Keller Williams Realty
Tom Stone, Stone Properties Group
Greg Walling, Moreland Properties
Sandy Cary, Capital City Sotheby's International Realty
Michele Turnquist, Turnquist Partners Realtors
Camille Abbott, Amelia Bullock Realtors
About Spanish Oaks in Bee Cave, Texas
The Spanish Oaks gated community offers tranquility, security, and an active resort-style lifestyle for its residents. Amenities include the Bobby Weed designed Spanish Oaks golf course (Ranked #4 Best New Private Course and #4 Top 10 Courses in Texas, and most recently ranked #3 "Best in State" for Texas, by Golf Digest.), hiking/running trails, biking, fishing, and community assets such as the Fish Camp and the Pool Pavilion, all set among and naturally designed to compliment the quiet rolling hills of the Texas Hill Country just west of Austin in Bee Cave, Texas. Spanish Oaks is also home of the Austin Tennis Academy (ATA), which provides programs for junior tennis players who aspire to achieve excellence through tennis. ATA consists of coaches, players and parents together creating a tennis community dedicated to developing future American tennis champions.
Spanish Oaks' Pool Pavilion is an 18,000 square foot outdoor entertainment area with resort-style swimming pools, sand volleyball court, a sport court, and features flat-screen televisions and an over-sized fireplace. The Fish Camp includes fun for all ages with a 4.5 acre stocked lake, a bait shop and fishing dock. Hike and Bike trails connect the Fish Camp easily to every home throughout the community. Public Schools for Spanish Oaks are located in the prestigious Lake Travis Independent School District (one of Texas' most highly rated school districts) and many esteemed private schools are within easy driving distance. Benefits of living in Spanish Oaks include accessibility to shopping and dining at The Hill Country Galleria and in nearby restaurants and shops in Lakeway, water recreation on Lake Travis and Lake Austin, and an easy commute to downtown Austin.