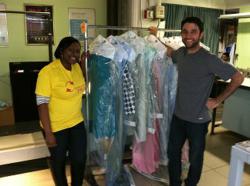 We met with the Operation PROM people and instantly recognized this was a good thing being done for Brooklyn's young people and we wanted to help
Brooklyn, NY (PRWEB) May 07, 2013
Brooklyn green dry cleaner Bridgestone Cleaners shows there support for Operation PROM Brooklyn by donating the professional cleaning of over 50 prom gowns.
One of the missions of Operation PROM is to help collect prom formal wear for less fortunate students. The green cleaner with several locations in Downtown Brooklyn had previously offered their locations as a drop off point for gown donations but decided they could help the non-profit organization even further.
"We met with the Operation PROM people and instantly recognized this was a good thing being done for Brooklyn's young people and we wanted to help," said Bridgestone Cleaners Owner Ken Kinzer.
"If you love your community you have to take a proactive role in making it the best it can be," said Mr. Kinzer, whose Bridgestone Cleaners is part of the GreenEarth Cleaning family.
As a member of the Association of Wedding Gown Specialists and recipient of numerous awards - Brooklyn's First Award of Excellence Cleaner and Brooklyn's 4 Star Green Earth Cleaner – Bridgestone is an expert in cleaning and caring for gowns of all occasions and they saw a way their expertise could help Operation PROM's Brooklyn chapter.
"We would like to thank Bridgestone Cleaners team for being so incredibly amazing! Operation PROM, Brooklyn 1st Free Prom Dress Giveaway was a huge success, due in large part to your support," said Operation PROM Brooklyn Chapter Director Shaniqua Schloss.
"We greatly appreciate you opening up your business to us as a drop-off location as well as your dry cleaning services to all the dresses that came your way and proving the young ladies with dry cleaning coupons."
The green dry cleaner and Operation PROM have already begun discussing Operation PROM Brooklyn 2014.
About Operation PROM
Established in 2005, Operation PROM is a nationwide Non-profit that provides resources, opportunity and mentoring to students in need. Services are available to children in financial need, those who are homeless, sick, or disabled. School supplies and scholarships are available in addition to our regular donations of Prom dresses and tuxedos.
About Bridgestone Cleaners
Bridgestone Cleaners are Brooklyn's real green dry cleaning serving brownstone Brooklyn: Red Hook, Cobble Hill, Williamsburg, Prospect Heights, Fort Greene, Park Slope, DUMBO, Windsor Terrace, Carroll Gardens, and Brooklyn Heights. Call 718-222-9958, or visit our Dumbo (109 Front Street) or Cobble Hill (175 Court Street), Brooklyn, NY locations. Follow us on Facebook.