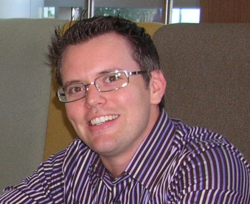 "My experience running Firefly Design Group and Firefly Programming has provided me with a balanced perspective that I am ready to share with Crestron and the CSP community."
Hollywood, FL (PRWEB) May 07, 2013
One Firefly LLC today announced the appointment of its CEO, Ron Callis Jr., to the Crestron Services Provider (CSP) Advisory Board for a term from 2013-2015. A cross-section of representatives from the Crestron community make up the board, and its mission is to explore and promote new levels of systems design, programming and support.
Created in 2001, the CSP program has more than 500 members from more than 200 companies across the globe and has evolved from an assemblage of programming professionals into a front line force of Crestron's brand. The CSP Advisory Board was formed to engage the professional services community in order to elicit a dialogue and free exchange of ideas.
Initially launched for Crestron Authorized Independent Programmers (CAIPs) 13 years ago to serve the needs of what was then a developing category of professional programming services, the scope of outreach has expanded over the years. CSP speaks directly to the highly motivated and Crestron-certified independent programming firms that deliver world-class programming, systems engineering and project support services worldwide.
Since its inception, the CSP communication channel has given industry partners unprecedented access to new software and opportunities for collaboration via CrestronLabs, an online forum designed for Crestron programmers and engineers.
One Firefly LLC is the parent company to, among other divisions, Firefly Programming, a full-service control system programming company specializing in Crestron technology solutions.
"My experience running Firefly Design Group and Firefly Programming has provided me with a balanced perspective that I am ready to share with Crestron and the CSP community," said Ron Callis. "I am honored to serve on the CSP Advisory Board and I will do my best to serve the design and programming community as their advocate in an effort to continue the growth of our industry."
Members interested in sharing stories, resources or suggestions for the CAB should visit the CSP website at http://www.crestron.com/my_crestron/csp_resources/ and hit "Contact us."
About Crestron
For 40 years Crestron has been the world's leading manufacturer of advanced control and automation systems, innovating technology to simplify and enhance modern lifestyles and businesses. Offering integrated solutions to control audio, video, computer, and environmental systems, Crestron streamlines technology, improving the quality of life in commercial buildings, universities, hotels, hospitals and homes. In addition to its World Headquarters in Rockleigh, New Jersey, Crestron has sales and support offices throughout the U.S., Canada, Europe, Middle East, Asia, Latin America and Australia.
About One Firefly LLC
One Firefly, LLC is the parent company to three business Units, each offering a unique selection of services geared around the custom electronics industry. Firefly Design Group is the leading design, engineering and consulting firm specializing within the integrated building technology space. Firefly Programming is a full-service control system programming company specializing in Crestron and Prodigy technology solutions. Firefly Creative is a full-service marketing and public relations agency that caters to the custom electronics industry's member contractors and manufacturers. One Firefly, LLC is based in Hollywood/Fort Lauderdale, Florida with additional offices in Mexico City and San Paolo, Brazil, and has been operating since 2007.