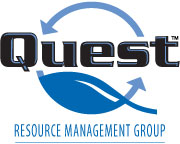 (PRWEB) May 07, 2013
Brian Dick, Quest Resource Management Group's CEO, is a finalist for the Ernst & Young Entrepreneur Of The Year® 2013 Award in the Southwest Area North. The awards program recognizes high-growth entrepreneurs who demonstrate excellence and extraordinary success in such areas as innovation, financial performance and personal commitment to their businesses and communities.
"I am honored to be a finalist for the EY Entrepreneur of the Year and to be recognized with such an outstanding group of other leaders." Said Brian Dick, Quest's CEO. " This recognition is a reflection of the hard work and dedication by not only me but our entire team at Quest. We have accomplished many great things recently but it's only the beginning for us as we have a much longer road ahead with new opportunities and challenges. I look forward to leading us into the future and continuing our success!"
Brian Dick was selected from nearly 100 nominations by a panel of independent judges. Award winners will be announced at a special gala event on June 22, 2013 at the Sheraton Downtown Dallas in Dallas, Texas.
About Quest Resource Management Group- (http://www.questrmg.com)
Quest Resource Management Group is a full service environmental consulting and management company, headquartered in Frisco, Texas. Quest helps Fortune 500 companies to maximize profits and mitigate risks, while minimizing their ecological footprints. Quest clients span across all key industry segments, including food services, hospitality, healthcare, manufacturing, construction, automotive aftermarket and fleet industries. Quest provides North American clients with comprehensive sustainability programs, innovative recycling solutions and proven environmental protection.
Quest prides itself in delivering targeted solutions exclusively tailored to the needs of each respective client. Quest also offers Return on Investment (ROI) and Return on Sustainability (ROS) based road maps to help clients design actionable programs for managing RFPs, defining operational protocols, creating and implementing training programs, and defining best practices. Quest's Sustainability Intelligence™ Dashboard helps clients improve decision making by extracting greater insights through unsurpassed business intelligence.