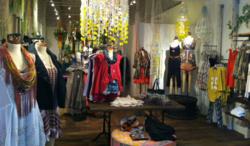 Philadelphia, PA (PRWEB) May 07, 2013
Undergoing nine weeks of construction, specialty clothing brand, Free People's Fifth Avenue location is set to unveil a brand new look. Nearly everything in the 5,500 sq. ft. space has been transformed, and the end result brings even more heart and character to the beautiful space.
To celebrate the store remodel, the brand will host a 'A Toast To New Beginnings' unveiling party on May 9th, 2013, from 6-9pm. Customers are invited to enjoy festivities that include makeovers by Aveda's Scott J Stylists and an FP Me photobooth. The first 50 customers to arrive will receive a three-pack of Free People nail polish in fun summer hues, and all who attend can enter to win a free three-day cleanse from Nekter. Those interested in hearing more, should head to the store's Facebook event for info and to RSVP (https://www.facebook.com/FreePeople5thAve#!/events/365511343560554/).
Highlights of the remodel include a brand new staircase and cashwrap, along with refinished surfaces, an updated fitting room area, new floors, and the addition of stairs to the entrance way. The brand worked with fellow Philadelphia-based company, Iron Studio, to construct the white iron and rustic wood staircase that leads from the main floor to the lower level shopping area. A contrast of rugged and feminine is continually played with throughout, as blackened steel contrasts against white beadboard and white washed brick walls. A built-in installation of reclaimed wood crates filled with brightly colored yarn lives behind a work bench cashwrap to create a truly 'wow' moment. The former floors have been pulled up and replaced with wide plank wood throughout the store. Lastly, the fitting room area has been expanded to include additional rooms along with colorful flowers and twinkle lights that create a cozy and comfortable environment for customers.
"The Fifth Avenue location was our first in New York City. The store originally opened in December 2007, and six years later, we wanted to give the store an updated look and feel," says Free People Director of Stores, Beth Wehagen. "Our stores designs are an incredibly important part how we express the overall vision of the Free People brand."
The store is located at 79 Fifth Avenue, New York, NY 10003. Store hours will continue as before, running Mon-Sat 10am-8pm and Sun 11am-7pm. The store's telephone number is (212) 647-1293. Fans should also "like" the store on Facebook to stay up-to-date on all of the latest arrivals, events, and other happenings (https://www.facebook.com/FreePeople5thAve).
###
About Free People
Free People is a specialty clothing brand featuring the latest trends and vintage collections for women who live free through fashion, art, music, and travel. The bohemian look consists of quality apparel, shoes, and accessories that invoke attributes of femininity, spirit, and creativity with its design. Free People is distributed globally via direct channels, including the Free People US site and Free People UK site, as well as specialty boutiques, top department stores, and the brand's own free standing retail locations in the U.S. and Canada.