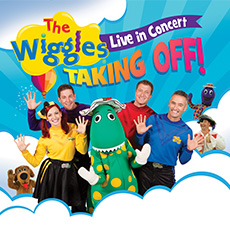 The new Wiggles' energy and dedication to the brand is invigorating, and we are especially thrilled to add our "First Lady" Emma, who literally has been a fan since she was a little girl – it is her dream come true.
Los Angeles, CA (PRWEB) May 06, 2013
HEY KIDS, GET YOUR WIGGLE ON! 2013 marks a new era for The world's most popular children's entertainment group, The Wiggles, with new cast members Emma (Yellow Wiggle), Simon (Red Wiggle) and Lachy (Purple Wiggle) joining Anthony on the blue, purple, red and yellow brick road ahead! Emma Watkins is the first female Wiggle and sings, dances and drums her way into the hearts of Wiggles fans around the globe! The Wiggles are heading out on the road to introduce their vibrant new team, collection of music and new programming. After 21 years of entertaining children around the world, The Wiggles! "Taking Off" World Tour will visit over thirty-five cities throughout North America beginning in August, and concert tickets are sure to be THE hottest family concert ticket this summer!
The Wiggles are an entertaining group of people and characters, including the blue, red, yellow and purple Wiggle, Dorothy the Dinosaur, Captain Feathersword, Wags the Dog and Henry the Octopus. They sing, dance, entertain and connect with children in a real way. For decades, fans have been dancing and singing along to favorite songs "Hot Potato", "Rock-a-Bye Your Bear" and more.
"The new cast will truly connect with today's generation," said Anthony Field, the creator of the band who continues as the blue Wiggle. "There's a new energy within the group and we've got a lot of new songs as well as your Wiggly favorites! Audiences will get their first opportunity to hear some new Wiggles material from the CD titled Taking Off!, released in North America late spring, and the Taking Off! DVD later this summer."
The new CD is full of feet stompin' songs including new favorites, "Do the Propeller!", and over 20 other songs like "Peanut Butter," "Little Bunny Foo Foo," "Emma (with the Bow in Her Hair)," along with some re-worked classics such as "Get Ready to Wiggle" and "The Shimmie Shake!". Wiggles fans will delight in the addition of Emma Watkins' female voice joining Simon, Lachy and Anthony for a new Wiggly blend. The Taking Off CD plays like a full Wiggles concert, and includes songs from the new television show Ready, Steady, Wiggle! airing on Sprout and Treehouse TV in the Fall.
The Wiggles' world 'Taking Off" tour comes to the US and Canada this summer as THE HOTTEST family concert ticket around. The Wiggles have had monumental success and have touched the lives of millions of children and families around the world for more than 21 years! They've sold more than 23 million DVDs and videos, 7 million CDs and 8 million books worldwide!
"The Wiggles are all about entertaining children, but also encouraging children to make healthy food choices and getting them active and moving through dance. Generations of children and families have been captivated by The Wiggles' unique brand of music, fun and learning, and the new members joining Anthony is no exception," said Paul Field, Managing Director of The Wiggles. "Anthony's university training in Early Childhood Studies informs all of The Wiggles' work and Emma, Lachy and Simon have been mentored over the last year in all of this. Their energy and dedication to the brand is invigorating, and we are especially thrilled to add our "First Lady," Emma, who literally has been a fan since she was a little girl – it is her dream come true."
In addition, The Wiggles are all over TV and radio and will be launching brand new licensed products this Fall. Ashley Mady, president of Brandberry, licensing agent for The Wiggles continued, "With major new licensing partners including Wicked Cool Toys, who will launch our Master Toy line this Fall, our amazing video and music partners NCircle Entertainment and Razor & Tie, and of course our entertainment partners, Sprout, Sirius, and Corus Entertainment in Canada, we are poised for some exciting growth in 2013 and beyond."
The Wiggles will be in the US and Canada for a Media Tour May 6th through May 16th, and will be meeting thousands of fans around North America. Their North American tour kicks off mid August and runs through October. For consumer and media events in your city, contact ida(at)genncomm(dot)com.
# # #
For ticket information please visit: http://www.thewiggles.com