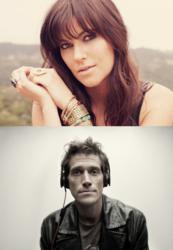 reflects the broad palette of pop
Napa, CA (PRWEB) May 06, 2013
With her first three recordings, 2003's The Love EP, 2005's breezy twentythree and 2008's Hello, Tristan Prettyman parlayed her smoky alto voice and laid-back surfer-girl-from-San-Diego charm into an eight-year career studded with highlights that included Hello's No. 2 position on the iTunes Digital Albums chart and headlining tours across the U.S., Europe, and Japan. Listening is Ben Taylor's first album in four years, the last being the critically acclaimed The Legend of Kung Folk Part 1, which had CNN commenting that the album, "reflects the broad palette of pop" and Blurt Magazine declaring, "For some time now Ben's been busy carving out a unique niche for himself in the music world." Ben himself once described his work as "organically handcrafted songs," and given the painstaking thought and care he puts in to his art, who are we to argue? As a successful and eclectic independent artist for the past ten years, it isn't just anyone who takes four years to put out their next album (Listening being his fourth album).
Cedar and Gold (whose title refers to both the cedar walls and ceilings in the home where Tristan Prettyman recovered from her heartbreak and the gold she spun from her situation in the songs) is an album that manages to be both deeply personal, but highly relatable to anyone who's had the ground collapse under them and fought their way back to healing. "It's actually a very hopeful album in a lot of ways, which I think is a common theme in all my records," she says. "The idea that 'things may be a bit crappy right now, but let's make the most of it' is very reflective of me as a person and my outlook on life. I always try to look at the bigger picture of why something is happening. And I love that I was able to go so deep and dig around in places I never thought I could access and still remain hopeful at the end of the day."
Listening, out on Sun Pedal Recordings/ILG in August, flawlessly fuses the sounds and styles of folk, pop, soul, urban, reggae and country, and is, as Ben Taylor says, "an evolution. Some songs were actually recorded four years ago, some were recorded a few months ago, and a few recorded a few weeks ago just in time to make it. This album runs the gamut from both the production style and the period of my life in which they were recorded. These songs are little windows into the last four years of my life."
Tickets for An Evening with Tainted Love are $20. They are on sale now and can be purchased through the theatre website at http://www.uptowntheatrenapa.com, at Ticketmaster (http://www.ticketmaster.com) or at the theatre box office (please call 707.259.0123 ext. 6 for hours). To find out more, please visit http://www.uptowntheatrenapa.com.
The Uptown Theatre Napa is downtown's ultimate destination for live concerts. Nestled in the famed West End district, this stunningly restored art deco masterpiece showcases only the finest acts, featuring music, comedy and more. An historic landmark, the Uptown offers a phenomenal, intimate live show experience, with excellent site lines and world class sound and lighting. As concert venues go, this is the place to be. Every seat is a great seat so buy concert tickets now!