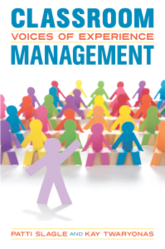 (The book) focuses on organizing and managing students, classrooms and instruction in the rapidly evolving world of education.
LOUISVILLE, Ky. (PRWEB) May 07, 2013
Teaching is not for the faint of heart, especially with all of the demands and expectations placed on modern educators. Behind every successful teacher is a successful classroom management system, the authors of this new book explain in this practical guide for teaching a wide range of students. Teachers Kay Twaryonas and Patti Slagle share tips appropriate for a variety of teaching situations based on their own explorations of classroom management and experiences in the field. Effective management establishes a classroom focused on learning and provides optimum learning opportunities for the most students.
"Classroom Management: Voices of Experience" focuses on organizing and managing students, classrooms and instruction in the rapidly evolving world of education. Chapters cover broad topics such as management philosophy, student accountability, classroom atmosphere, and managing special communications, as well as more focused subjects such as grading management and dealing with changes in routine like new students and field trips. The authors offer practical advice, reminding teachers that adolescents are egocentric, like to complain, respond to immediate gratification and want frameworks, even when they complain about them. They urge teachers to be aware of their own attitudes and ways of addressing students, place a priority on planning and determining classroom procedures, and remain consistent when establishing classroom culture.
A discussion of teacher-student relationships explains the role of teachers, offers practical ways teachers can get to know their students and provides examples of simple gestures to show students they care as well as when to draw the line on personal interaction. An extensive appendix provides an in-depth resource featuring tools for instructional management, group work, reading and writing management, grading, makeup work, parent communication, substitutes and a field trip checklist. Anecdotes sprinkled throughout the book, some with a dash of humor, offer real-life examples of the effectiveness of the authors' management style.
The authors have spent a combined 60 years as classroom teachers at public schools in Louisville. Both are fellows of a National Writing Project affiliate and developed their classroom management skills largely through trial and error, observing effective teacher models and incorporating the best ideas into their own teaching. Kay Twaryonas has taught English, humanities and English as a Second Language, focusing on advanced students. She is involved with therapy dog activities and dog agility competitions. Patti Slagle has taught English, speech and drama, focusing on challenged students, and she volunteers for Actors Theatre of Louisville.
----------
For additional information, please visit http://www.classroommanagementvoe.com.
Classroom Management: Voices of Experience
Patti Slagle and Kay Twaryonas
Dog Ear Publishing
ISBN: 978-1-4575-0396-2 364 pages $25 US
Available at Ingram, Amazon.com, Barnes & Noble and fine bookstores everywhere.
About Dog Ear Publishing, LLC
Dog Ear Publishing offers completely customized self-publishing services for independent authors. We provide cost-effective, fast, and highly profitable services to publish and distribute independently published books. Our book publishing and distribution services reach worldwide. Dog Ear authors retain all rights and complete creative control throughout the entire self-publishing process. Self-publishing services are available globally at http://www.dogearpublishing.net and from our offices in Indianapolis.
Dog Ear Publishing – self-publishing that actually makes sense.