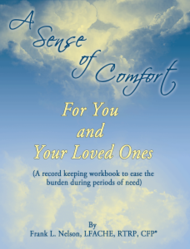 The book provides tools that will lead to peace of mind when planning for both the inevitable and the unexpected.
WHITE PLAINS, MD (PRWEB) May 08, 2013
Thinking ahead and leaving instructions in case of illness, injury or death can help ensure someone's wishes are carried out when the time comes. A new workbook by an experienced financial planner offers guidance on providing clear instructions for families and friends. The workbook is designed is to help someone organize personal affairs in case of death or incapacitation and provide information to the people who will step in once that happens.
"A Sense of Comfort for You and Your Loved Ones" features three sections: getting prepared, going into action and other necessary information. The first section includes detailed forms to record personal information such as emergency contacts, funeral arrangements, property and medical directives. The second section offers a detailed outline of steps representatives must take to handle affairs. The final section is designed to help representatives make informed decisions and includes a glossary of terms and valuable resources, covering such topics as hospice care, legal assistance, death certificates, taxes, trusts and more.
Anyone can benefit from advanced planning, from senior citizens to couples with children, terminally ill people or those with chronic conditions and military personnel who deploy to dangerous assignments. Electronic copies of the record-keeping workbook on flash drives are available by contacting the author at comfort(at)fnfps(dot)com.
Author Frank Nelson, a Certified Financial PlannerTM with more than three decades of experience, is president of Nelson Financial Planning Services. The registered investment advisory firm serves small businesses and individuals in Washington, D.C., Maryland and Virginia. Nelson, who grew up in Albany, N.Y., is also a registered tax return preparer, certified healthcare executive and Life Fellow in the American College of Healthcare Executives.
----------
For additional information, please visit http://www.asenseofcomfort.com.
A Sense of Comfort for You and Your Loved Ones
Frank L. Nelson
Dog Ear Publishing
ISBN: 978-1-4575-1757-0 108 pages $21.95 US
Available at Ingram, Amazon.com, Barnes & Noble and fine bookstores everywhere.