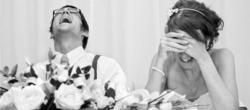 Don't be the next wedding fail
Cleveland, OH (PRWEB) May 07, 2013
Laugh Staff, a best man speech writing company made up of professional comedians gives some insight into what it takes to give a great best man speech.
Sometimes with friends, the retelling of embarrassing or incriminating stories is acceptable. However, there are some things that are best kept as inside jokes – which is to everyone's benefit. Laugh Staff stresses has a few rules when it comes funny best man speeches and no inside jokes is Rule 1.
Rule 2: There is a time and a place for certain language, but a best man speech is not one of them. "It's important to be a gentleman. A best man should not swear when he's giving a toast," said Laugh Staff co-founder, Josh Womack.
A wedding is a melding of two families, which means everyone should feel included. The best man and the groom will have a history together, but it is no excuse to exclude other important family members and friends. "The best way to win the crowd over early is to include the family in your speech, it's a small thing, but it will go a long way"
Finally, the best man needs to watch what he imbibes. "Do not get drunk!" said Laugh Staff co-founder Cameron Amigo. "One or two drinks to loosen never hurts, but pace yourself. Chances are you're speaking after dinner, so keep your wits about you. Don't be the next wedding fail."
A best man speech can be fun to write and deliver, but remembering these tips can be extremely helpful when sitting down to write the speech. Laugh Staff is ready to help best men craft and deliver speeches that will not only be memorable and hilarious, but fun and enjoyable for every guest to listen to. Laugh Staff believes that it is the best man's speech; they just want to help make it better.
For more information about Laugh Staff Inc. and their speech writing services visit http://www.laughstaff.com or email info(at)laughstaff(dot)com.
About Laugh Staff:
Laugh Staff, Inc. was founded in 2012 by a team of comedians and writers in Cleveland, Ohio. Laugh Staff helps their clients with best man speeches as well as providing best man speech examples on their blog. They assist best men and maids of honor in speech-editing, speech writing, and provide training on speech delivery. Recognizing the importance of the big day, Laugh Staff's professional comedians work with best men and maids of honor to ensure they make a lasting impression.