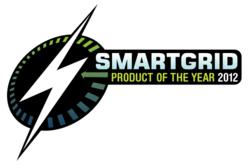 Sensing capabilities are a mandatory requirement for the grid of the future, and receiving the Smart Grid Product of the Year Award is yet another indication that we are leading this market
Reston, VA (PRWEB) May 07, 2013
Tollgrade Communications, Inc., a global leader in providing service assurance solutions to the world's largest utilities and telecommunications providers, announced today that its LightHouse distribution monitoring platform received the 2012 Smart Grid Product of the Year Award from SmartGrid.TMCnet.com, a TMC and Crossfire Media sponsored technology media website.
"Sensing capabilities are a mandatory requirement for the grid of the future, and receiving the Smart Grid Product of the Year Award is yet another indication that we are leading this market," said Erik Christian, Tollgrade's Vice President of Smart Grid. "The momentum is here. 2013 has been a great year for Tollgrade's smart grid business as we rapidly expand the reach of our LightHouse platform in the U.S, South America, Europe and Asia."
The Tollgrade LightHouse distribution monitoring platform represents a paradigm shift in the way utilities are able to respond to outages, improve reliability, and optimize network planning. The turn-key solution consists of inductively powered Medium Voltage (MV) sensors and Predictive Grid℠ analytics software that provides real-time visibility to pinpoint outage location, detect load imbalance and help utilities better understand the causes of faults. With the solution in place, utilities gain immediate situational awareness into the operational status of their distribution grid and can make the critical planning decisions that will significantly improve reliability.
"The solutions that have been selected for the Smart Grid Product of the Year Award reflect the diverse range of innovation driving this market. Congratulations to the Tollgrade LightHouse platform which best exemplified the most innovative smart grid technologies in the past year," said Carl Ford, Co-Founder and Community Developer, Crossfire Media.
"It is my pleasure to recognize Tollgrade Communications with a Smart Grid Product of the Year Award for its contribution to the advancement of smart grid technologies," said Rich Tehrani, CEO, TMC. "I look forward to seeing more innovation from Tollgrade Communications in the coming year."
Winners are published on SmartGrid.TMCnet.com and included in its eNewsletter.
For more information, please visit http://www.tmcnet.com
About Tollgrade
With a global footprint and over 25 years of experience providing cutting-edge network assurance solutions, Tollgrade Communications, Inc. has built a reputation for improving the reliability and operational efficiency at the world's largest utilities and communications service providers, allowing operators to reduce customer down time and recover lost revenue. Named one of the Top 13 Smart Grid Companies to Watch in 2013, Tollgrade is part of the Golden Gate Capital portfolio – a San Francisco based private equity firm with more than $12 billion of capital under their management. Learn more about the company at http://www.tollgrade.com
About Smart Grid:
Smart Grid is the leading website dedicated to the rapidly developing technologies that enable and harness smart grids, with particular emphasis on applications, products and software for improving residential, business, institutional and facilities' power consumption.
This website offers information and analysis for anyone interested in researching, purchasing and applying smart grid technologies. It includes smart grid industry news and expert analysis by Carl Ford, Crossfire Media. Visitors will find free resources including online communities, blogs, feature articles, videos and more. SmartGrid.TMCnet.com is sponsored by TMC, an integrated, global media company helping clients in print, in person and online, and Crossfire Media, an integrated marketing company with a core focus on future trends in technology.
About TMC:
TMC is a global, integrated media company that supports clients' goals by building communities in print, online, and face to face. TMC publishes multiple magazines including Cloud Computing, M2M Evolution, Customer, and Internet Telephony. TMCnet is the leading source of news and articles for the communications and technology industries, and is read by as many as 1.5 million unique visitors monthly. TMC produces a variety of trade events, including ITEXPO, the world's leading B2B communications event, as well as industry events: 3D Printing Conference & Expo; Asterisk World; AstriCon; (CVx) ChannelVision Expo; Cloud4SMB Expo; DevCon5 - HTML5 & Mobile App Developers Conference; M2M Evolution Conference & Expo; Mobile Commerce Zone Conference & Expo; SecureIT; StartupCamp; Super Wi-Fi Summit; SIP Trunking-Unified Communications (News - Alert) Seminars; Wearable Tech Conference & Expo; WebRTC Conference & Expo; and more. Visit TMC Events for additional information.
About Crossfire Media:
Crossfire Media is an integrated marketing company with a core focus on future trends in technology. Crossfire Media services communities of interest with conferences, tradeshows, webinars and newsletters. Crossfire Media has a partnership with Technology Marketing Corporation (TMC) to produce events and websites related to disruptive technologies. Crossfire Media is a division of Crossfire Consulting, a full service Information Technology company based in New York.
For more information about TMC, visit http://www.tmc.net
Media Contacts:
Tollgrade Media Contacts:
Cathy Clarke
CNC Associates
+1 617-527-2089(mobile)
cathy(at)cncassocs(dot)com
Kimberly M. Getgen
Director, Smart Grid Technical Marketing
Tollgrade Communications, Inc.
+1 703-408-1571 (mobile)
KGetgen(at)tollgrade(dot)com
TMC Contact:
Drew Stoga
Marketing Manager
203-852-6800, ext. 175
dstoga(at)tmcnet(dot)com
###