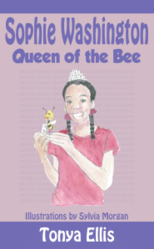 Elementary students will enjoy this chapter book that works both as a silent read or read-aloud story.
MISSOURI CITY, Texas –
(PRWEB) May 08, 2013 -- Although Sophie Washington is terrific at spelling, she doesn't want to enter the Xavier Academy spelling bee. It's more fun chasing wild boar out of her suburban yard or watching her brother ride a bucking sheep at a rodeo than studying spelling words. This new chapter book tells what happens when an irritating classmate challenges Sophie, and the fifth-grader reluctantly enters the bee.
In "Sophie Washington: Queen of the Bee," Sophie realizes she must study hard to beat Nathan Jones, a know-it-all whose older sister won first place in the school and regional spelling bee for three years. It's hard to concentrate, however, when her younger brother Cole tries to show off his magic tricks and ends up at the doctor's office. Her studying pays off at the school contest, and she even earns a special surprise for her hard work. The real challenge, however, comes at the regional bee. Can Sophie win the contest, even though she hasn't studied the sixth-grade words, or will Nathan do as he boasted and take the prize?
This is the first novel in a series about Sophie and her friends, who attend a private school in a suburb of Houston. The book teaches gentle lessons about tolerance and understanding, whether it's defending a friend who has dyslexia and is being teased about spelling or seeing a smart aleck in a new light. Elementary students will enjoy this chapter book that works both as a silent read or read-aloud story. Sylvia Morgan's illustrations bring the characters to life.
Author Tonya Ellis knew she wanted to become a writer at age 14 after her hometown newspaper printed an article she wrote. Since then, Ellis has written for newspapers and magazines. The mother of three spelling bee champions, Ellis also has judged spelling bee events. Illustrator Sylvia Morgan studied art in college and now directs an art studio in Sugar Land, Texas. She paints watercolor and acrylic landscapes and portraits when she's not illustrating books.
----------
For additional information, please visit http://www.tonyaellisbooks.com.
Sophie Washington: Queen of the Bee
Tonya Ellis
Dog Ear Publishing
ISBN: 978-1-4575-1754-9 92 pages $9.99 US
Available at Ingram, Amazon.com, Barnes & Noble and fine bookstores everywhere.
About Dog Ear Publishing, LLC
Dog Ear Publishing offers completely customized self-publishing services for independent authors. We provide cost-effective, fast, and highly profitable services to publish and distribute independently published books. Our book publishing and distribution services reach worldwide. Dog Ear authors retain all rights and complete creative control throughout the entire self-publishing process. Self-publishing services are available globally at http://www.dogearpublishing.net and from our offices in Indianapolis.
Dog Ear Publishing – self-publishing that actually makes sense.