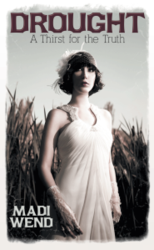 (The book) is a compelling tale of women scratching out their existence against the odds, fighting against abuse and neglect and eventually triumphing.
Fort Worth, TX (PRWEB) May 09, 2013
Kitty Mae was young and beautiful, and mourning the loss of her mother to tuberculosis. Heartbroken and eager to escape her life, 17-year-old Kitty Mae decided to marry a young rancher Wen calls Mr. M. As this new nonfiction book relays, the two had a family quickly, and they had to move frequently to follow the work. The stress of frequent upheaval and three children in as many years proved too much for the fragile young girl, and she took her youngest child and fled the house one day, leaving behind her husband and her two young children. The baby, known as Betty Lou, was the author's grandmother. Kitty Mae's premature death led to Betty Lou being placed with older relatives, a stern couple known as Mr. and Mrs. C., who provided food and shelter for the little girl, but nothing in the way of affection or love.
Betty Lou's presence was tolerated by her adopted parents until she was 14. They decided at that point that they were too old to parent a teenager, and they brokered a marriage with an older man in town. Married off at 16, Betty Lou embarked upon her adulthood far too soon, and thing didn't improve as her new husband abused and neglected her, and eventually abandoned her at a pivotal moment of need. Their eventual divorce led Betty Lou to leave her own daughter, Patty Ann, to be raised by a foster mother, continuing the cycle of abandonment.
Drought is a compelling tale of women scratching out their existence against the odds, fighting against abuse and neglect and eventually triumphing.
Author Madi Wend displays tremendous compassion toward the women, helping the reader to understand the circumstances that might have led these women to make the decisions they made. Wend is an advocate with a bachelor's degree in psychology and graduate studies in mental health counseling who focuses on trauma, grief, loss, abuse and neglect in adults and children. This is her first book.
----------
For additional information, please visit http://www.madiwend.com.
Drought
Madi Wend
Dog Ear Publishing
ISBN: 978-1-4575-1770-9 204 pages $12.95 US
Available at Ingram, Amazon.com, Barnes & Noble and fine bookstores everywhere.
About Dog Ear Publishing, LLC
Dog Ear Publishing offers completely customized self-publishing services for independent authors. We provide cost-effective, fast, and highly profitable services to publish and distribute independently published books. Our book publishing and distribution services reach worldwide. Dog Ear authors retain all rights and complete creative control throughout the entire self-publishing process. Self-publishing services are available globally at http://www.dogearpublishing.net and from our offices in Indianapolis.
Dog Ear Publishing – self-publishing that actually makes sense.