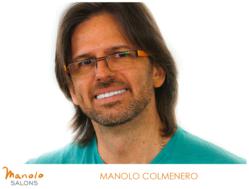 "Manolo has a passion for helping clients discover their own beauty."
Dallas, Texas (PRWEB) May 07, 2013
Touted as one of the most exclusive salons in University Park's Snider Plaza, Llongueras is now Manolo Salons. International Stylist and Image Consultant Manolo Colmenero expands his presence in the Metroplex adding this new salon location to his existing North Dallas Salon located off the Dallas North Tollway near Belt Line Road.
After leaving his native country of Spain to bring his talents to the U.S. marketplace, Manolo carries on the tradition of the styling method that revolutionized the hairdressing world years before. Manolo was the first to introduce the U.S to the Llongueras Method while establishing his own name and a successful salon in Dallas. Adding his own signature style and business philosophy Manolo is well known for his ability to fuse cutting-edge European beauty trends with American sensibility and imparts a truly global perspective in the definition of style.
"Beauty is natural. I really believe that everyone is beautiful in their own way. The skinny, tall models in magazines are only one type of beautiful. Just because you are overweight does not mean you aren't beautiful. Just because you are short does not mean you aren't beautiful. Beauty is on the inside, and some people just need professional help bringing that to the outside to discover their beauty," said Manolo. With an honest belief that everyone is beautiful in their own way, Manolo has a passion for helping clients discover their own beauty.
From high fashion to commercial styles, his clientele welcomes the expertise and talent Manolo brings to this exclusive University Park location. The salon offers wide-ranging hair and beauty services in a sleek and sophisticated setting occupying a 1200 sq. ft. space in Snider Plaza; with an ambient, modern setting that appeals to trendy and leisure clientele alike. Complementing this environment of originality are the junior stylists personally selected and mentored by Manolo himself. Leading the team of stylists is Elva Colmenero, who also manages the salon.
From Barcelona and Mexico City to Miami and Chicago, Manolo and his stylists actively participate in hairdressing events of worldwide importance such as the Frida Kahlo 100 Years Gala held in Mexico. Manolo continues to train, research and practice new techniques and employ the use of new technology keeping him at the forefront of the industry and has trained stylists for Paul Mitchel The School Dallas. Manolo has been featured in D Wedding and D Beauty Magazines and has captured the grateful heart of every woman that has carried the title of The Manolo Bride™.
Working, teaching and producing hair shows that set the trends for the world to follow inspired Manolo to broaden his career vision. Fourteen years after opening his first salon, Manolo continues to transform the essence of the salon experience by adding another location focused on personalized service and a strong, successful business model.
___________________________________________________________________________________
Established in 1999, Dallas-based Manolo Salons, guided by international hair stylist and image consultant Manolo Colmenero, has established itself as a quality, upscale salon that offers unparalleled personalized customer service and expert technique. Lists of services, media coverage, articles, photo galleries and more are available at manolosalons.com