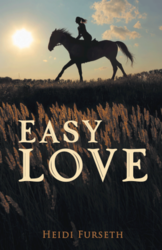 Growing up can be difficult, even if you've got a loyal horse on your side.
Snohomish, WA (PRWEB) May 14, 2013
Ann Dougherty has only one wish – a horse of her own, and she spends every waking moment reading horse books and fantasizing of the day her dream comes true. Finally, for her 11th birthday, her father buys her Forever Amber, but the first thing Ann's new horse does is bite her. In an instant, notes this new novel, Amber changes fantasy into reality and sets into motion an emotional tug-of-war between Ann and her father that lasts for 10 years, ending only when she leaves her childhood behind once and for all.
"Easy Love" tells the parallel stories of the sometimes misguided love of a father for his daughter and the undying love of a girl for her horse. When Amber bites Ann, David Dougherty vows to get rid of the horse but Ann won't give her up, refusing to admit that Amber is too much for her when the mare is all the horse crazy girl has ever wanted. Ann soon finds herself in a battle with Amber and her father both, but as her bond with the horse grows closer she finds a strength and independence that only seems to deepen the divide between her and her father. And while Amber becomes Ann's touchstone through all the changes of growing up- puberty, high school, first boyfriend, leaving for school, college romance- Ann's father seems determined to keep her a little girl. It's not until Ann is forced to make a very adult decision that her father accepts that his daughter is grown up. Because in the end horses don't make girls crazy, horses make girls women.
Author Heidi Furseth has loved horses from an early age, convincing her parents to move to the country and buy her a horse when she was 9. Furseth, now a microbiologist, lives in western Washington with three horses, three cats and a resident raven. Her passions are riding and writing.
----------
For additional information, please visit http://www.easylovehorses.com.
Easy Love
Heidi Furseth
Dog Ear Publishing
ISBN: 978-1-4575-1784-6, 228 pages, $14.95 US
Available at Ingram, Amazon.com, Barnes & Noble and fine bookstores everywhere.
About Dog Ear Publishing, LLC
Dog Ear Publishing offers completely customized self-publishing services for independent authors. We provide cost-effective, fast, and highly profitable services to publish and distribute independently published books. Our book publishing and distribution services reach worldwide. Dog Ear authors retain all rights and complete creative control throughout the entire self-publishing process. Self-publishing services are available globally at http://www.dogearpublishing.net and from our offices in Indianapolis.
Dog Ear Publishing – self-publishing that actually makes sense.