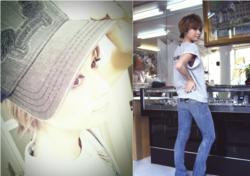 (PRWEB) May 08, 2013
In the country of incredible street fashion culture that is Japan, Robin's Jean has converted top model, Aya Hasegaya, into a fan. This devotee of the "Made in USA" trademark found Robin's Jean unique washes, flattering cuts and handmade details irresistible. Here, she reveals her latest Robin's Jean must-have, a sexy straight leg Marilyn Jean and a customized cap and highlights the jean's back pocket details with silver studs and signature black wings. To accessorize her look, Aya fancied a customized twill cap in grey with tonal signature wings.
Robin's Jean features a unique collection of jeans, jackets, tops, hats and belts for men and women. Represented by the gold wings logo, Robin's Jean captures Robin's childhood dream of freedom and flight. Robin arrived in Los Angeles in 1996. His skills combined with talent, caught the eye of the best denim companies in LA. In 2005, he decided to incorporate his passion for designing clothes, riding motorcycles and vintage cars with his fascination of the American spirit to create his own line, Robin's Jean. Today, Robin designs all of his collections in the United States, which truly embodies his love for freedom of the open road and the big sky.