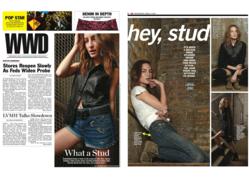 It's been a decade since studded denim has seen this much action. The look today has attitude to spare
(PRWEB) May 09, 2013
Known as "the fashion bible" by industry insiders, Women's Wear Daily features Robin's Jean Nat denim for its "Denim in Depth" section in the April 17th 2013 edition. By pairing the jeans with a casual white t-shirt and rustic ankle boots, the magazine's stylist, Kim Friday, has captured the brand's essence: infusing a luxurious touch to simple outfits with customized jeans.
After years of discrete presence, studded denim returns with a twist, the genuine use of studs to create a unique effect to your look. "It's been a decade since studded denim has seen this much action. The look today has attitude to spare", confirms WWD magazine.
Exclusively sold in Robin's Jean Beverly Hills, CA and Soho, New York stores, the Smoky Dark Nat jean shows how Robin's Jean has built its "custom-made" reputation in the fashion industry by developing designs around this fancy little piece of metal that is the stud.
Robin's Jean features a unique collection of jeans, jackets, tops, hats and belts for men and women. Represented by the gold-winged logo, Robin's Jean captures Robin's childhood dream of freedom and flight. Robin arrived in Los Angeles in 1996. His skills combined with talent, caught the eye of the best denim companies in LA. In 2005, he decided to incorporate his passions for designing clothes, riding motorcycles and vintage cars with his fascination of the American spirit to create his own line, Robin's Jean. Today, Robin designs all his looks in the United States, and his unique pieces truly embody his love for freedom of the open road and the big sky.