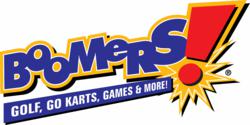 Orange County, CA (PRWEB) May 06, 2013
On Saturday, May 11, the world celebrates the sport of miniature golf. Boomers is inviting guests to join in on the fun by offering free mini golf, on National Miniature Golf Day, at its fourteen family entertainment centers across the country.
Miniature golf became an official competitive sport in the US in the 1930s and has been a beloved leisure time activity worldwide for even longer. Boomers parks entertain millions of guests of all ages every year on and off the miniature golf course. Each family entertainment center offers hundreds of rides, arcade games, and attractions in addition to multiple mini golf courses with unique themes and obstacles.
For the park nearest you and to print a coupon for a free round of golf on May 11, visit the park website at http://www.boomersparks.com.
About Palace Entertainment
Palace Entertainment owns and operates 40 theme parks, water parks and family entertainment centers nationwide, including Raging Waters, Kennywood, Idlewild, SpeedZone, and Story Land. The company entertains millions of guests annually and is one of the largest park operators in the US. For more information, visit palaceentertainment.com.