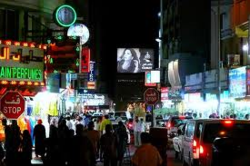 Brooklyn, New York (PRWEB) May 06, 2013
The wholesale Dubai clothing market, known as the Deira Marker, has been covered in a new video released by New York wholesaler Closeout Explosion. The video, narrated by Donny Lowy, presents a summary of the various components of the clothing market in this Middle East city state. Dubai is a strategically located country which is part of the United Arab Emirates. Its geographical location makes it an ideal center for the trading of apparel by African, Asian, European, and Middle Eastern exporters. In addition to its ideal location, and ease of access due to its proximity to three continents, there is also a free trade zone situated around its Jebel Ali airport. Due to the government's motivation for making their country a global meeting point for international business, there are more relaxed religious requirements imposed on citizens, tourists, and business people.
"The potential for discovering great closeout deals in Dubai is partially based on the fact that it has become a gateway to the entire Middle East. A dress manufacturer in Turkey can set up a relationship with a clothing distributor in the UAE, who will then in turn reach out to his network of retailers in countries such as Lebanon, Qatar, Bahrain, Egypt, Kuwait, and Saudi Arabia. Without access to what has become an international wholesale flea market for merchandise, suppliers to boutiques located in the Middle East would have to market their overstock on a country by country basis. While not spoken of through official press channels, there is even trade between Arab countries and Israel which take place through this important channel," said Donny Lowy, who has exported brand name dresses, suits, shoes, and children's clothing to many Middle Eastern shops.
The video explains how all types of resellers, from Nigerian dress stores to Lebanese boutique managers, can explore the wholesale market to procure the inventory that they need for their businesses. And since liquidators understand that shoppers will be visiting the area for merchandise, they then bring additional designer and private label apparel to sell to these buyers. While perhaps not on the same caliber as the New York Garment District, the wholesale offerings that can be found are still quite impressive which is why the city has become a mecca for clothing vendors. In addition to clothes, there is also a very large gold market that supplies jewelry stores.
Closeout Explosion runs a Brooklyn based liquidation website, CloseoutExplosion.com, whose site operates in the online wholesale directory of WholesaleCentral.com. The closeout showroom can be visited without an appointment, or surplus buyers can make their purchases online. The warehouse carries a mix of designer goods at below wholesale and private label salvage pallets at liquidation prices.