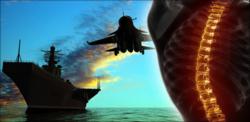 The project has grown to be more substantial than I had imagined, and I am very proud Vital is part of this ground-breaking research.
Glendale, CA (PRWEB) May 07, 2013
Vital Imaging™ has announced that it will be awarded a second grant by the U.S. Department of Defense (DoD) to continue a joint research project with the University of California, San Diego. The grant will be utilized to further explore how equipment carried by United States military personnel effects the spine.
This study was first launched in 2011 as a joint venture between UC San Diego, Vital Imaging, and the Navy Health Research Center. The objective was to examine how the assault packs and body armor used by United States Marines effect the spine. This information will then be used to design new equipment that is intended to have a less negative impact on soldiers' bodies.
Vital CEO Sam Solakyan voiced his enthusiasm and commitment to the study: "I believe research is the driving force behind discovery and progress. Our state-of-the-art diagnostic capabilities can provide objective answers to questions raised by this study. When we had the opportunity to work with the Department of Defense on the UCSD project, I knew it was a chance to be part of something meaningful. The project has grown to be more substantial than I had imagined, and I am very proud Vital is part of this ground-breaking research."
The original grant for the study was also provided by the DoD, and the initial findings have already been submitted for publication. The success of the preliminary study undoubtedly influenced the DoD's decision to approve a second grant. This additional funding will allow further evaluation of: "Lumbar Spines Musculoskeletal Physiology and Biomechanics during Simulated Military Operations." Spanning three years, and covering this next phase of the study, the new grant is scheduled to be allocated in September, 2013.
Vital Imaging is the only Kinetic MRI™ center on the West Coast, which makes them an ideal and unique resource for this study. Kinetic MRI features Positional Scanning and Gravitic Imaging, which more accurately reveals pathology than a traditional MRI (which only examines patients in a lying down position). Positional Scanning is able to evaluate muscle and skeletal anatomy while these body parts are flexed, extended, or in the positions where pain is experienced. Furthermore, Gravitic Imaging represents the ability to scan patients in weight-bearing positions, which can expose pathology that is hidden when lying down. Under the pressure of gravity's down force joints can become compromised, vertebrae collapse, discs bulge, and nerves become impinged. Research on Kinetic MRI technology has demonstrated that Gravitic Imaging is often helpful in identifying the true nature of a patient's pathology - particularly musculoskeletal injuries.
The study's goal is to find ways to reduce the amount of load-bearing force imposed on soldiers by the assault packs and body armor they use. The answer isn't as simple as reducing the amount of items soldiers carry since their efficacy hinges upon having the necessary tools to accomplish the mission at hand. Original load carrying limits for active duty soldiers were established 150 years ago simply by the use of questionnaires. Since that time a multitude of studies have been conducted on energy expenditure, balance control, and situational awareness, which have led to improvements in U.S. soldiers' performance while reducing load-bearing related injuries. However, despite these efforts, reported incidents of lumbar spine pain among U.S. military troops have increased.
With this in mind, UC San Diego Orthopedics and Vital Imaging, along with the Naval Health Research Center of San Diego, proposed a new perspective in load carriage kinematics research; one which uses Kinetic MRI technology to investigate the changes that the lumbar spine undergoes when carrying heavy loads. This research hopes to result in important discoveries which will allow an effective redesign of the body armor and assault packs used by U.S. Military personnel.
Mr. Solakyan stated, "I have so much respect for what our soldiers endure during combat operations. The physical demands placed on them are intense, and the first step to curtail those demands is to carefully study the loads they carry and the effects of the equipment on their spines."
Vital Imaging is proud and excited to continue its efforts in uncovering the possible effects—both long and short term—of weight-bearing on the spines of American soldiers in hopes of lessening the burden they carry.
About Vital Imaging, Inc.
Vital Imaging provides comprehensive diagnostic imaging services which benefit both physicians and patients. Vital's goal is to efficiently deliver accurate imaging studies to providers, subscribers, claimants, personal injury applicants', injured workers, and their attorneys for insured and non-insured parties. The company's commitment to staying at the forefront of technologic advancement, as well as its administrative expertise, has garnered Vital Imaging a well-earn reputation for being the physician's choice for state-of-the-art medical diagnostics.
For more information about Vital Imaging please visit http://www.vitalimaging.com
About Sam Solakyan
Sam Solakyan is the CEO of Global Holdings, Inc. and Vital Imaging. Mr. Solakyan is a proven leader with a track-record of delivering innovative business results and industry dominating growth. His goal-driven entrepreneurial spirit has transformed Global Holdings into a multi-unit conglomerate spanning the healthcare, entertainment, and technology sectors. Mr. Solakyan also serves on the board of other notable companies and charitable organizations.
For more information about Mr. Solakyan, please visit http://www.samsolakyan.com