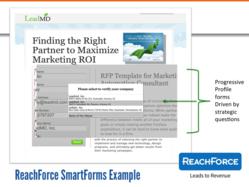 Anytime you can increase conversions, accelerate revenue and substantially boost data quality -- it's just a flat out win. - Justin Gray, CEO of LeadMD about the Landing Page gains with ReachForce SmartForms
Austin, TX (PRWEB) May 08, 2013
ReachForce, a leader in B2B lead generation solutions for marketers, announced the results of a new landing page optimization and data enrichment case study to be presented at the SiriusDecisions Summit 2013.
Featuring conversational marketing consultancy LeadMD, the case study highlights dramatic business improvements triggered by landing page optimization with ReachForce SmartForms web form data enrichment.
The lead generation gains include:

Landing page conversions increased 26% over the course of the entire nurture process
Persona based nurture is now being reached in an average of 15 weeks - down from 40 weeks – a 6 month improvement in speed.
Content program lead flows increased 37% and Content Nurture Program ROI increased 41% in just 2 months .
LeadMD found that its form visitors, most often marketers, felt more at ease with LeadMD because of the way ReachForce forms look and behave.
Total ROI for the implementation is currently at 21x after just 3 months, projected to 104x at end of first year.
LeadMD projects an additional $1 million in new annual revenue as a direct results of SmartForms implementation.
Unexpected positive interest from prospects in the SmartForms technology itself, disarming typical form objections.
"Anytime you can increase conversions, accelerate revenue and substantially boost data quality -- it's just a flat out win," said Justin Gray, CEO of LeadMD. "With ReachForce we've done all three with a solution that fit into our lead management process with very little effort and investment."
ReachForce SmartForms was integrated into all LeadMD Marketo landing pages in 2 days and program gains were observed immediately. SmartForms appends over 90 data attributes from a ReachForce reference data set of over 200 million companies, adding industry description, company revenues, site location, address and phone along with IP geo location information and adds this information to the lead at the moment of acquisition.
SmartForms enriched leads data can trigger lead scoring, lead routing and segmented nurture – even dynamic landing page content – at the point and time of entry - a critical difference to batch mode data appending.
"SmartForms has been producing sizable gains for clients with increased revenues and overall program ROI, and we see that every time we research a new case study," said Haresh Gangwani, Chief Revenue Officer, ReachForce. "We're both delighted that LeadMD selected ReachForce Precision Marketing and SmartForms to meet their lead management objectives and thrilled to see the impressive results they've gained."
SmartForms has been deployed on Eloqua, Pardot, Marketo, Silverpop, Act-On, Hubspot, Sitecore, Wordpress and other marketing automation and CMS landing pages for over 100 companies since release in 2011.
SmartForms is one of a suite of solutions in the ReachForce Connected Marketing Data Cloud to allow easy integration of all the elements of B2B marketing – continuous data quality, new lead generation and landing page data integrations with marketing automation and sales force automation.
About ReachForce
ReachForce delivers cloud-based data solutions for B2B marketing professionals to accelerate leads to revenue. The ReachForce Connected Marketing Data Cloud provides continuous marketing data enrichment and insights to help customers reach their maximum revenue velocity. Since 2005, more than 400 leading companies including Act-On Software, Dassault Systemes, Eloqua, GXS, Marketo, ReadyTalk, and Webtrends are increasing the effectiveness and driving higher revenue velocity through digital marketing automation initiatives with better quality and enriched lead data and insights from ReachForce. For more information about ReachForce and landing page best practices, visit our site at ReachForce.
About LeadMD
LeadMD is a marketing services firm specializing in lead generation and marketing performance management. Founded in 2010, LeadMD is a full service marketing solution that helps marketers make sense out of marketing automation and CRM. With deep expertise in Marketo, Salesforce integration, and in how to shape a strong working funnel, LeadMD can develop, streamline, and maximize any lead generation program. For more information, please visit http://www.leadmd.com. Find us on: Twitter, Facebook, LinkedIn, Vimeo & YouTube.
###
Media/Analyst Contacts:
ReachForce: Mary Firme 512-327-9000 x7114 hello(at)reachforce(dot)com
LeadMD: Rebecca Hasulak 480-235-1596 press(at)leadmd(dot)com