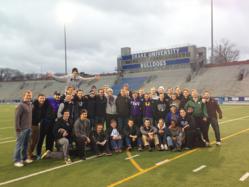 To have so many people participating and enjoying themselves all in my mother's name was amazing. We appreciate all the work the FIJIs put into the event. - Nicole Cundiff
Phoenix, AZ (PRWEB) May 07, 2013
Drake University's Phi Gamma Delta (FIJI) "Kicking Cancer with NFL Kicker Billy Cundiff" event exceeded all fundraising expectations by raising over $8,000 for Colleen's Dream Foundation, according to 2014 FIJI Corresponding Secretary Sam Pritchard, and Ben Sloan, 2014 FIJI Chapter President.
"The success of our 'Kicking Cancer with Cundiff' event totally exceeded all of our wildest expectations," says Pritchard. "Not only did we have a fun and well-attended event, but we provided a platform for those affected by ovarian cancer to share their stories."
Sloan agrees with Pritchard regarding the overall success of the event, and adds the "Kicking Cancer with Billy Cundiff" was truly an "inspirational" event.
"It has been such a wonderful experience working with Colleen's Dream Foundation to impact ovarian cancer research in such a big way," says Sloan, "To see the way the campus community rallied around this cause was so inspiring."
Two other individuals who were also "inspired" were NFL Kicker Billy Cundiff and his wife, Nicole. However their amazement was not only about the success of the event, but also with the FIJIs.
"We really enjoyed working with Drake athletics and the FIJIs on this event," says Cundiff. "The FIJIs were incredible. They took the event to the next level in terms of participation and fundraising. We are already looking forward to next year's event."
Nicole Cundiff, the Executive Director of Colleen's Dream Foundation, agrees, adding how touched she was by the way people rallied to a cause so important to her mother, Colleen Drury.
"I was overwhelmed by all the support," says Nicole. "To have so many people participating and enjoying themselves, all in my mother's name, was amazing. We appreciate all the work the FIJIs put into the event."
Cundiff said "Kicking Cancer with NFL Kicker Billy Cundiff," which was held on April 18th, 2013 at Drake University in Des Moines, Iowa was "simply about kicking field goals." He said participants created three-person teams and received three minutes to make as many field goals as possible. The men kicked from the twenty yard line and the women from the five yard line. Then, on Saturday, during halftime of Drake's spring football game, contestants competed against Cundiff.
In all, 30 teams participated in the event, and according to Cundiff, the final amount raised for Colleen's Dream Foundation was $8,437.
ABOUT DRAKE UNIVERSITY AND FIJI:
The Phi Gamma Delta fraternity, also known as FIJI, is a leadership and social fraternity founded in 1848 and has undergraduates and graduate chapters at more than 115 campuses and cities across North America. Founded on the values of friendship, knowledge, service, morality and excellence, the Drake chapter has over 70 brothers and was recently named Most Outstanding Greek Chapter at Drake University.
Drake University is recognized as one of the finest institutions of higher learning in the Midwest. A mid-sized, private university in Des Moines, Iowa, Drake offers the benefits and resources of a larger institution along with the advantages of intimate class sizes and close personal relationships. The institution offers a number of undergraduate and graduate programs, as well as professional programs in business, law and pharmacy.
Go here to learn more about Drake University's Phi Gamma Delta (FIJIs) fraternity
ABOUT COLLEEN'S DREAM FOUNDATION:
Colleen's Dream Foundation was started in 2012, five years after Cundiff's mother-in-law, Colleen Drury, was diagnosed with late-stage ovarian cancer. Through her journey fighting her cancer, Colleen and her family became aware of a new world filled with invasive surgery, harsh chemotherapy, and lots of uncertainty. Colleen's wish was to help other women facing the same situation she faced with ovarian cancer, so the family created Colleen's Dream Foundation.
Colleen's Dream Foundation is a qualified 501 (c)(3) tax exempt non-profit organization based in Phoenix, AZ.
Go here to learn more about Colleen's Dream Foundation.