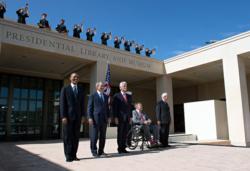 (PRWEB) May 07, 2013
Showcall Inc., an award-winning event production company based in Maryland, working with the Bush Center's communications and events team, successfully planned and produced Dedication Events for the George W. Bush Presidential Center.
The official dedication ceremony of the George W. Bush Presidential Center took place on Thursday, April 25, and featured a rare public appearance by five US Presidents, presidential families, world leaders and luminaries from the Bush Administration. The Dedication event was followed by the Lighting of Freedom Hall that evening, which highlighted Freedom Hall through a theatrical lighting and pyrotechnics show. The Bush Center, which houses the George W. Bush Presidential Library and Museum and the George W. Bush Institute, combines the nation's 13th Presidential library and museum with a leading-edge policy organization that continues the public service of President and Mrs. Bush.
The George W. Bush Library and Museum, operated by the National Archives and Records Administration (NARA), will house archives from the Bush Administration, including 80 terabytes of digital information and more than 200 million e-mails, the largest electronic records collection of any presidential library. The museum exhibits will focus on key decision points of the Bush presidency, using interactive, digital and visual displays to provide visitors a sense of the issues facing the President and the principles that guided him through critical situations.
Showcall provided a broad variety of event production services as the overall producer, including event planning and management, design, host broadcast, web-streaming, pyrotechnics, broadcast & theatrical lighting, stage management, audio visual reinforcement, staging, scenic, perimeter security elements, media logistics support, credentialing, VIP advance and guest experience support.
"Our goal was simple: to produce a spectacular event for President and Mrs. Bush to properly recognize the dedication of the George W. Bush Presidential Center," says Sally McDonough, vice president, Marketing, Communications, and Events, George W. Bush Presidential Center. "Showcall helped us orchestrate a flawless and beautifully presented three-day celebration to mark the historic occasion."
"We were deeply honored to have had the opportunity to serve as the event producer for the Dedication of the George W. Bush Presidential Center. While we are accustomed to working on high caliber events, this was different. It was an incredible experience for our team to see the work come together on a sunny day in Texas, with all five living presidents together on one stage! Words can't describe the pride I have in our team!" says Ajay R. Patil, principal at Showcall, Inc.
"Our company has had the opportunity to work for celebrities, pontiffs, world leaders and political parties. But the privilege to help bring this page of American history to the guests and millions of television and web viewers is one we will always cherish," says A. Blayne Candy, principal at Showcall, Inc.
Showcall's unique and unparalleled experience working on high profile, live broadcast, high threat environments sets them apart in the crowded event marketplace.
Showcall Inc. was founded in 2001 by Ajay R. Patil and A. Blayne Candy. Since that time, Showcall has produced landmark events such as Pope Benedict XVI's Mass at Nationals Stadium, the last (6) US hosted international summits, the Groundbreaking of the Smithsonian's National African American Museum, the Dedication of NJ's 9/11 Memorial & 10 Year Anniversary and the Dedication of the US Air Force Memorial.