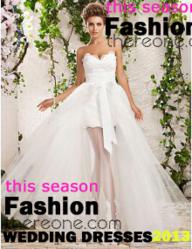 Thereone Released Its New Styles of Beach Wedding Dresses
(PRWEB) May 07, 2013
Today, Thereone.com, a well-known online shopping store for wedding dresses, released its new styles of beach wedding dresses.
Last month, Thereone.com introduced its wedding dresses promotion to show appreciation for consumers' support. Today, the company released its new styles of beach wedding dresses.
The beach wedding dresses from Thereone feature fashionable designs, gorgeous looks and delicate craftsmanship. Meanwhile there are various colors and designs for customers to choose from. They are especially made to satisfy various body types. These new beach wedding dresses are now available in 3 colors: white, ivory and champagne. These kinds of dresses are suitable for outdoor wedding especially beach wedding.
Amy, one of the customers said, "I love everything about this dress. When I got the dress and tried it on and showed to my husband, he told me that I was so beautiful and I was his angel. At that time, I felt so glad. This dress is far more beautiful in person than online."
Moreover, the company is offering thousands of different wedding dresses, such as short wedding dresses, vintage wedding dresses, colored wedding dresses, mermaid wedding dresses, and princess wedding dresses and so on.
About Thereone.com
Established in 2009, Thereone is a manufacturer specialized in the development and production of women's clothing such as wedding dresses and formal dresses. All of our products comply with international quality standards and are greatly appreciated in a variety of different markets throughout the world.
For more information, please visit http://www.thereone.com