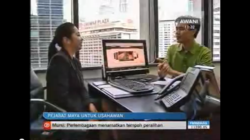 "Many businesspeople these days say that flexibility or mobility is a key factor to running a small business. So we at Servcorp offer one of the best solutions in the form of our virtual and serviced offices."
Kuala Lumpur (PRWEB) May 09, 2013
Premium office space provider Servcorp Malaysia is keen to attract local entrepreneurs to the advantages of virtual offices for their small to medium businesses.
In a fast growing and multi-cultural city like Kuala Lumpur, entrepreneurs have access to a vast range of opportunities to thrive in the business world. Given the country's openness and business-friendly policies, many local budding entrepreneurs are getting in on the bandwagon to self-made success.
Servcorp has always been a recognized name in office space solutions worldwide but believes there is further value in encouraging smaller, local business people to expand. Part of the company's initiative is to educate and provide an avenue for them to do just that.
In a TV interview conducted by local Malay-language TV program "Bisnes Alternatif" (Alternative Business) on Astro Awani, Servcorp demonstrates the ease and simplicity of setting a virtual office in any of their worldwide branches.
"Many businesspeople these days say that flexibility or mobility is a key factor to running a small business. So we at Servcorp offer one of the best solutions in the form of our virtual and serviced offices," said Nurul Syazana Mustapha, a Manager for Servcorp Malaysia.
An advantage of Servcorp's virtual offices include a prestigious address at any one of their two locations in Kuala Lumpur's Central Business District. Aside from that, each client is given a local business phone number which comes with a dedicated receptionist. Meeting rooms and facilities are also available to clients in any one of Servcorp's 140 worldwide locations.
Virtual offices have come a long way to serve a company in terms of efficiency, flexibility and affordability. It has given leverage to even the smallest businesses like online boutiques and medium-sized agencies in recruitment and human resource. Thus, these virtual and mobile offices run low overheads to owners of home businesses or those considering one.
Nearly 60 percent of the Malaysian population comprise of the Malay ethnic group while the rest consists of Chinese, Indian and other expatriate and native groups. To view the full interview, please see Servcorp's YouTube video of the interview.
ABOUT SERVCORP
Servcorp was founded in 1978 and is well known as a leading provider of premium office spaces worldwide. With an extensive network of locations, the company offers serviced offices, meeting rooms and virtual offices in most major cities in the US, Europe, Middle East, Asia, Australia as well as New Zealand. In Kuala Lumpur, Servcorp has serviced offices at Menara Citibank and Menara Standard Chartered. For more information, please visit http://www.servcorp.com.my/en/.