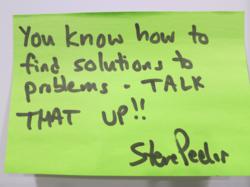 One young lady, whose brother-in-law deployed many times in the past few years, wrote advice to him, as he prepares to transition: 'It's ok to stop pretending you're 'fine'. There are people here to help + support you.'
Arlington, VA (PRWEB) May 07, 2013
The inaugural Business4Better conference kicked off last week to bring together non-profit exhibitors with businesses of all sizes seeking to develop corporate social responsibility programs and partnerships. Warrior Gateway was in attendance to help connect civilians to the military community by asking them to share their advice with veterans in transition.
Business4Better attendees were invited to learn more about Warrior Gateway's mission to connect veterans and military families with the non-profit and government resources in their local community and to share their advice to veterans transitioning out of the military.
Some visitors struggled to write a short sentence while others found this question healing. One young lady, whose brother-in-law deployed many times in the past few years, wrote advice to him, as he prepares to transition: "It's ok to stop pretending you're 'fine'. There are people here to help + support you."
"With so many people in attendance, Warrior Gateway had a great opportunity to collect valuable advice from veterans who have been through the military transition process, and civilians who wanted to share their transition lessons learned," said Kristen Parrinello, Warrior Gateway's Director of Marketing. "Over 50 people provided advice from their own transitions, both veteran and civilian, that we are excited to share with our community."
Service members are trained to make decisions under difficult circumstances, often with limited information though asking for help is not an inherent part of military culture. With over 1 million veterans transitioning out of their military careers over the next four years, Warrior Gateway is leading the way in providing answers to that simple question: "Where do I go for help?" The Business4Better conference provided yet another opportunity for Warrior Gateway to connect with veterans and help provide them information on help available in their local community.
About Warrior Gateway: Founded in 2009, Warrior Gateway connects service members, military families, wounded warriors, families of the fallen and our nation's veterans with government and non-profit programs in their local community. Warrior Gateway harnesses state-of-the art technology and community collaboration to help today's military community make better decisions about what service provider they can go to for help. Their programs provide a public forum where people can share their experiences about the quality and effectiveness of those services. In 2011, Warrior Gateway's efforts were recognized with the Federal Computer Week Fed-100 award for significant contributions to the Federal IT community and in 2012 with a ComputerWorld Honors Laureate for our innovation in creating an open-source platform for information sharing. A proud partner of the Got Your 6 campaign, Warrior Gateway works to bridge the civilian-military divide with non-profit and government partners. For more information, please visit: http://www.warriorgateway.org