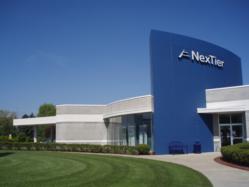 "With two highly talented and complementary management teams, we have the opportunity to exceed expectations, to take advantage of growth opportunities, and to continue the long standing tradition of excellence both organizations strive to achieve."
Butler and Kittanning, PA (PRWEB) May 07, 2013
NexTier Bank and Farmers & Merchants Bank of Western PA (F&M Bank) announced today plans to merge the two organizations to create a $1 billion financial services leader. The "new" NexTier Bank will offer Western Pennsylvania businesses and consumers a comprehensive line of products and services, 24 convenient locations, and a focus on premium customer service. The combined organization will continue the commitment to community that both organizations have made a priority for well over a century.
The merger is expected to generate cost synergies and drive a significantly improved cost structure. The new NexTier will have approximate assets of $1 billion and will be headquartered in Butler, PA with operations in Armstrong, Butler and Allegheny Counties and approximately 240 employees.
"This is a decisive move that highlights the strengths of both organizations and positions the combined entity for success by providing even greater value to our customers," said Mark Snyder, current Chairman of NexTier Inc and a member of the F&M Board. "There are clear strategic benefits to combining the two highly complementary organizations, including growth opportunities. This is a particularly challenging time for the financial services industry. With an ever-changing regulatory landscape and an unprecedented low interest rate environment ultimately affecting income, smaller competitors will be forced to consider their options. This combination allows our organizations to not only stay viable, but to flourish -- together we will better be able to serve our communities, increase value for our shareholders and provide the level of service that customers of both organizations have come to expect ."
Subject to regulatory approvals, the transaction is expected to close in the first quarter, 2014. The merged entity will have headquarters in Butler.
Snyder concluded, "With our shared ownership, NexTier and F&M management teams are currently pursuing opportunities to align corporate structure, jointly negotiate contracts, share services such as Wealth Management, and work together on best practices in anticipation of this merger. We understand the benefit to completing the merger with speed and discipline. The significant talent in both organizations will allow us to achieve the synergies we have identified while maintaining our competitive position in the combined market."
NexTier Inc. has assets of $512 million and serves the western Pennsylvania region with corporate offices in Butler and Wexford. NexTier, Inc. includes NexTier Bank, NexTier Insurance Services, NexTier Wealth Management. NexTier Bank has 15 community offices throughout northern Allegheny, Butler and Armstrong counties. http://www.thebank.com
About Farmers & Merchants Bank of Western PA
Farmers & Merchants Bank of Western PA has assets of $425 million and serves the western Pennsylvania region with corporate offices in Kittanning. F&M. includes F&M Bank and F&M Wealth Management. F&M Bank has 9 community offices in Armstrong County. http://www.fmbwpa.com.