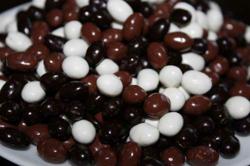 It's easy to see the health benefits of roasted soybeans, even when they're drenched in chocolate.
Denmark, WI (PRWEB) May 08, 2013
From school lunch treats to rewards for good behavior or grades, candy coated peanuts have been a favorite since the 1950's. With over half of Americans snacking two or three times daily, (NPD, August 2012), the growing desire for treats is matched only by the growing interest in treats with nutritional benefit. "It's easy to see," notes AlmostNuts! company founder Darren Kornowske, "to see the health benefits of roasted soybeans over peanuts, even when they're drenched in chocolate!"
In a recent comparison of retail product nutrition facts, AlmostNuts roasted soybeans, or soynuts, were found to be lower in calories and fat than a leading commercial brand of dry roasted peanuts. Plain soynuts are a sodium-free snack, in contrast to roasted peanuts which carry 160mg sodium per serving. Soynuts also provide 50% more fiber and 70% more protein than peanuts.
Comparisons of AlmostNuts milk chocolate and dark chocolate coated varieties with the leading candy coated peanut product revealed similar results. In addition to fewer calories, lower sugar, less fat, and less sodium, AlmostNuts provide higher levels of protein and fiber than their colorful counterparts. Soynuts are also a dramatically richer source of phytoestrogen, an isoflavone compound that can help reduce symptoms of menopause such as night sweats and hot flashes.
Based in Denmark, WI, you can learn more about AlmostNuts! by visiting http://www.soyalmostnuts.com, or calling 920-915-0152.