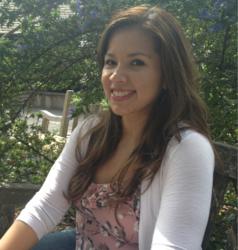 I had two choices. I could drop out of high school to contribute to the family income or stay in school and go to college.
Santa Ana, CA (PRWEB) May 07, 2013
THINK Together would like to issue a correction for the press release distributed on May 7. The channel America Arias works for was incorrectly listed. The full release with the corrected channel follows.
The budding broadcast career of THINK Together alum America Arias took a big step forward as she was named a morning producer for NBC's affiliate station KCRA3 in Sacramento.
Producing the 7 a.m. show in the state capital puts the 25-year-old who majored in political science at Cal State Fullerton in a much bigger spotlight than her previous job in Fresno. But her political knowledge matched with her passion for storytelling makes this job a great fit.
"I want to tell those stories that no one is telling and tell them in a visual way," she said. "Broadcasting really lets me do that."
Arias, the first in her family to attend and graduate college, credits THINK Together for helping her focus on higher education. She was a regular attendee of THINK Together's Teen Learning Center in Costa Mesa's struggling Shalimar neighborhood.
"I knew I wanted to do bigger and greater things," she said. "That was daunting because I didn't know anyone who had gone to college in my neighborhood. THINK Together just really filled that gap. They believed in me."
Randy Barth admires THINK Together alums like Arias who have overcome so much and gone so far and he wants to help even more achieve their full potential.
"I'm so proud of what America has accomplished," said Barth, the Founder and CEO of THINK Together. "She is a shining example of how the cycle of poverty can be broken and how we can all work together to close the state's achievement gap while changing the destinies of entire families."
Following in their sister's footsteps is Arias' three siblings, Ever, Dulce and Rafael. Ever and Dulce Arias attended the Shalimar Teen Center and both went on to college, with Ever graduating last year with a degree in biology from UC Riverside. Rafael is in the Shalimar Learning Center's elementary tutoring program.
Arias, who attended Newport Harbor High, fondly remembers the tutors at the Shalimar Teen Center and how those mentors pushed her to pursue her dream of a college education.
"I always wanted to go to college, but the idea was so foreign in my family," she said. "I did not know how to bring it up. My mom and dad were working two jobs to provide for us. I had two choices. I could drop out of high school to contribute to the family income or stay in school and go to college."
She had a talk with her dad about her dream of going to college. He supported the decision but said he couldn't help her pay for it. So she applied for scholarship after scholarship to pay the bills. Somehow, they made it all work.
Arias remembers exactly when her love for news began. As a young girl, she tagged along with her parents in the early morning hours as they delivered the Los Angeles Times to subscribers' doorsteps. She became fascinated with the ever-changing news pages and that sparked her to pursue a career in journalism.
While at Cal State Fullerton, where she was named as one of the top 100 journalism students in the US, Arias interned for a CBS affiliate in Washington D.C. and later at CNN. Her first job out of college was as a news assistant at KABC in Los Angeles. That helped her land a job at the ABC affiliate channel in Fresno, where she stayed for three years as a morning news producer until she got the gig in Sacramento. She said she is fortunate because all of her jobs have been at stations that are the market leaders for that city.
And the morning producer job fulfills her passion for writing.
"I became passionate because I had a story to tell," she said. "I bring a different perspective from where I came from and what I went through. I love being in public service and providing my viewers what they need to know. At the end of the day I feel accomplished."
About THINK Together
With more than $60 million in annual revenue, THINK Together is one of the leading and largest nonprofit providers of academic support programs (early literacy, after-school, small group tutoring, summer learning, etc.) in the U.S., serving more than 100,000 students across 420 locations from San Diego to Sacramento. Partnering with school administrators and teachers, its academically oriented programs and dedicated team of 2,500 employees are helping students close the achievement gap. THINK is an acronym: Teaching, Helping, Inspiring & Nurturing Kids. For more information, call 888-485-THINK or visit http://www.THINKtogether.org or http://www.facebook.com/THINKtogether.