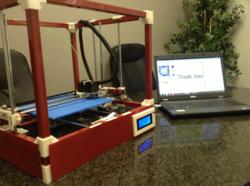 Springville, Utah (PRWEB) May 08, 2013
The RigidBot 3D printer on Kickstarter has experienced overwhelming success and is in its final three days. One of the hottest gadgets out there receiving buzz is the 3D printer. These printers allow anyone to three-dimensionally print nearly any object, you are only limited by your imagination. Prototype company Invent-A-Part has plans to put their new 3D printer RigidBot in production, using funds from Kickstarter.
Invent-A-Part's initial goal was $31,500, however, they have quickly exceeded their funding goal raising over $750,000. Invent-A-Part can order their needed supplies in bulk using the funds from Kickstarter; this enables them to have a lower market price.
Now as the final days of the Kickstarter campaign arrive, the main goal of the RigidBot is to deliver quality 3D printing at an affordable cost. Traditional 3D printers on the market are thousands of dollars, however, RigidBot is as low as $355. Finally, a dependable customizable 3D printer will be available to the everyday user.
Buyers will be able to purchase the 3D printer fully assembled or in a kit. The RigidBot's design allows users to expand in X, Y, and Z directions, by easily swapping out the lengths of the metal bars. The RigidBot will deliver a flexibility and function unseen in the 3D printer world. Users can dream up their own designs, or download free ones from various 3D websites.
The RigidBot was designed to be durable and built to last through thousands of hours of print jobs. Its kit package allows easy assembly within a few hours, thanks to its injection-molded parts. With only a little calibration and quick hardware installation, RigidBot owners will be printing quickly and efficiently.
To see the RigidBot in action, and back the Kickstarter campaign, please visit http://www.kickstarter.com/projects/1650950769/rigidbot-3d-printer?ref=prwebf
Invent-a-Part is a leading rapid prototyping company and the manufacturer of the RigidBot 3D Printer.