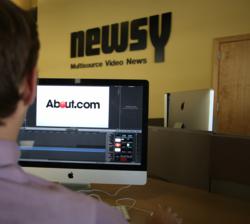 Newsy leverages its four years of mobile video experience to deliver customized videos that can be used across all platforms of About.com's distribution network. - Newsy President Jim Spencer
Columbia, MO (PRWEB) May 08, 2013
Newsy, the multisource online and mobile video news network, has added high-quality evergreen videos to its suite of services. By creating videos for About.com, the provider of content that helps users solve large and small needs in everyday life, Newsy helps meet the growing demand for high-quality video.
Working and coordinating in real time with About.com's editors to identify topics, Newsy producers deliver compelling, advertising-friendly videos on subjects that range from biographical to educational to tutorial.
Newsy's team enlists the help of relevant experts such as veterinarians, auto mechanics and professors. After conducting interviews, shooting original footage and writing succinct scripts, Newsy's team crafts highly engaging videos.
"At About.com, we are focused on greatly increasing the number of quality videos on our site," said Abigail Reid, editor, video publishing for About.com. "We chose to work with Newsy on informational and instructional videos that help our readers tackle everyday tasks and answer basic questions."
"Newsy creating video for About.com is another sign of our growth and diversification this past year," explains Newsy President Jim Spencer. "Newsy leverages its four years of mobile video experience to deliver customized videos that can be used across all platforms of About.com's distribution network."
Recent videos include 'How to Change a Tire,' 'What is a Pedicure?' and a profile of Steve Jobs.
Newsy produces thousands of innovative videos per month for its website, apps and partners. Its videos are distributed through a number of sites and span distribution across mobile, the web and in-home networks — generating more than one billion views annually.
About Newsy
Promising to make you smarter, faster, Newsy is a multisource video news service that highlights unique perspectives from across the media spectrum - offering a broader view in a concise format. Through engaging video news bites available on the web and mobile devices, Newsy provides you what you need to know about the day's events. Newsy has won two Appy Awards, a Davey Award and a W3 Award. Its highly rated free apps are available to download from iTunes, Google Play, the Windows Phone Marketplace and the Nokia Store.