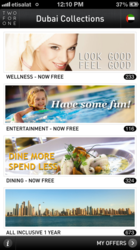 The vouchers are right on your phone, so you don't need to have those big books, that everyone forgets at home.
Dubai, UAE (PRWEB) May 13, 2013
As a part of its strategy for creating awareness of its voucher app in Dubai and helping people find and enjoy great places, twoforonego.com has created three special collections that are complimentary to use. The collections - Dining, Wellness and Entertainment - of which a total of 5000 were created, will give its users six months of access and thousands in savings.
"When a new product is launched, especially something that has not been in the market before, such as a voucher app, it is really important for people to try it before they buy it. That's why we created these three unique collections," says Robert Meza, the CEO of TWOFORONE GO, and continues, "We really believe the app will help people get inspired to go out more, discover new favorites and save money."
Each collection features great "buy one, get one" deals that are made to be enjoyed with friends and loved ones. Even better, the mobile vouchers are easy and quick to use. Aside from not having to print the offers, Robert Meza goes on to say, "The vouchers are right on your phone, so you don't need to have those big books, that everyone forgets at home."
Getting the voucher collections is easy. All a customer has to do is download the app on their iPhone or Android device, sign up and choose the collections they want.
The Dining collection consists of over 300 great "Two-for-One" deals that everyone can enjoy from some of Dubai's great dining options, such as Bice Mare, Options by Sanjeev Kapoor, The Gramercy and the Pantry Café.
The Wellness collection gives customers more than 200 "buy one, get one" offers on spas and salons. Relaxation and pampering will be the only things customers will experience when using this collection. Amara Spa, Balance Wellness Club, Cleopatra's Spa and Yhi Spa are some of the places featured.
Finally, the Entertainment collection offers lots of fun with more than 100 "two-for-one" vouchers for activities like golfing at the Els Club, scuba diving at the Pavillion Dive Center or fun for the little ones at Kids Corner.
The "two-for-one" collections are available right now on the App Store and Google Play, and it is possible to activate all three collections on the same smartphone.
About TWOFORONE GO:
TWOFORONE GO is the app that allows you to explore your city and discover new favorite places. With more than 600 two-for-one deals on your mobile, you're always ready to share exciting new experiences with someone you love. The offers range from restaurants, cafes and wellness places to golf, entertainment and other activities.
TWOFORONE GO has invested in the development of a user-friendly mobile platform for their good two-for-one deals, as the use of smartphones is increasing rapidly. The company is active in Denmark, Dubai, Stockholm and soon South Africa.