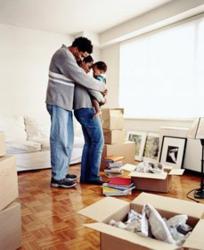 Moving with Animals
"How-to" articles for relocating household pets.
(PRWEB) May 08, 2013
Apartment Movers is an online directory that lists all types of moving companies. Lately, it has started listing companies that specialize in moving residents and their pets. Just like humans, animals have it rough when it comes to moving. Animals are used to living in their environment and don't like it at all when one tries to transport them to a new location. But leaving pets behind when one is moving to a new home can be hard for both parties.
"We are dedicated to making your pets as comfortable as possible during a move. There is no doubt that moving is stressful and we understand the need for one to make a smooth stress-free move. This is exactly why we have come up with this new pet service to help in the relocation of pets in a stress free manner. When one is moving to a new country, there is obviously a lot on their minds. With this new service, the relocation of their pets is one thing they don't have to worry about," said the director of Ohio Apartment Movers while launching the pet relocation service on Tuesday.
For many people out there, relocating with their pets is something they are very concerned about. They want to be sure that their pets are in safe hands during transport. Apartment Movers has gone out of their way to ensure that they are moving pets the safest way possible. They understand pets and it is safe to say that pets understand them too. Among their staff are pet handling and transport specialists who will ensure that all pets are cared for during transit. When pets are comfortable during relocation, they will arrive at their new destination less stressed and ready to start a new life.
These movers are pet specialists, customers can be assured that they will have they pets relocated with them in a safe way. Using their services, one does not have to worry about following regulations and having to fill out a lot of legal and health paperwork. Apartment Movers will take care of everything to ensure that your pet arrives at its new home safe and sound.
About Apartment Movers
Apartment Movers brings movers that are experienced because they have been helping residents to move for a long time. With their new specialized pet moving services, they are guaranteeing customers that their pets will be moved safely and stress-free to the new location. The company is affiliated with top pet handling and transportation associations and therefore experts at what they do. They are conversant with all the rules and regulations involved when transporting any animal and also have special custom made cages for transporting these animals in. On their website, they also give advice about pet transportation and how one can be sure that their pet settles in quickly in their new home. For more information go to http://www.apartmentsmovers.com