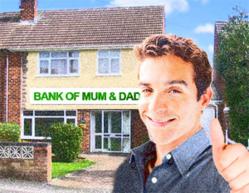 this could be the tip of the iceberg in terms of financial heartache
Belfast (PRWEB UK) 7 May 2013
Whilst some financial institutions have struggled over the past few years it appears that at the "Bank of Mum & Dad" business is booming! This according to new research by the Co-operative Group in Northern Ireland (and reported in the Belfast Telegraph) which shows that a massive 8 of 10, 18-30 year olds in Northern Ireland, ask their parents for cash.
The study claims this "Lost Generation", who '...just can't cut the apron strings...", are increasing struggling to make ends meet and are turning to their parents for emotional and financial support. Reasons for needing support vary, but the majority (43%) simply need help with basic "food shopping costs", a number which tallies well with the 31% who claim not to feel "...financially independent..."
However, despite help from parents it seems the majority of 18-30s (60%) still have personal debt too. The most common reason for debt is student loans (63%), but common personal finance credit products like credit cards (31%), personal loans (23%) and overdrafts (19%) also feature heavily as sources for debt. And it seems this debt is not a concern for the newly coined "generation debt" with 77% of 18-30 year olds claiming not to be fazed by debt.
A spokesperson for compareandsave.com, leading UK personal finance comparison website, offered the following comment:
"The sentiment behind these figures will not surprise many people - it's part of human nature for parents to support their children. What could perhaps be worrying for policy makers is the drain that this support could be having on the parents of the "Lost Generation".
We often hear politicians speaking of inadequate pension provision and if supporting young adult children is coming at the expense of saving for their own future, this could be the tip of the iceberg in terms of financial heartache."
____________________
compareandsave.com is one of the UK's leading personal finance comparison websites. Based in Colchester, Essex, compareandsave.com has been helping UK consumers get a better deal on credit cards, saving, loans and more for over five years.