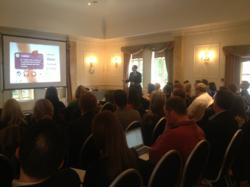 We are delighted to be able to be the complete web marketing partner to local and national businesses of any size.
(PRWEB) May 09, 2013
Intergage have been hosting web marketing events to help businesses of all sizes throughout Hampshire, Dorset and the South with their web presence, in particular; social media marketing.
Reaction and take up of Intergage's free workshops and seminars has been positive with businesses, from hairdressers to hotels, all complimenting Intergage for their expertise and experience.
As a leading digital marketing agency Intergage are proud to support the growth of local businesses, helping them achieve their business goals through the introduction of web marketing.
Web Marketing Director, Jo Lynes, said: "the events we've been running throughout Hampshire and Dorset have been aimed at improving the web marketing knowledge of local businesses."
"We wanted to show local firms that social media and content marketing isn't something to be afraid of, but rather an approach to marketing that can yield spectacular results if done well" she added.
Intergage's offering for Content Marketing has been in development lately, in line with various search engine updates, culminating in their now celebrated "7 Steps to an Optimised Content Marketing Strategy" presentation at Careys Manor, Hampshire.
Dozens of businesses attended the Content Marketing presentation which covered all the steps needed for any business to achieve content marketing success, including:

Business Goals
Research
Planning
Creating Content
Publishing Content
Promoting Content
Analysis
The presentation was a huge success with many businesses taking up the mantel and beginning their own content marketing strategies. The event also served to forge strong bonds between Intergage and a wide variety of local businesses.
Intergage also teamed up with the European Information Service Centre (EISC) and WSX Enterprise who, working with Bournemouth Borough Council, wanted to help young businesses in the Bournemouth area to begin using social media.
A few members of Intergage's web marketing team hosted a workshop at Bournemouth Library to give their insights into the effective use of a variety of social media platforms including Facebook, Twitter, LinkedIn and Google+.
The event was a resounding success and Intergage have been asked back to deliver further workshops.
Intergage have been hosting workshops on digital marketing for many years with the aim of assisting businesses in succeeding online – whether it's through training, mentoring or actually carrying out the work.
These courses/consultancies include;

Organic Search (SEO)
Paid Search (PPC)
Content Marketing
Social Media Marketing
As well as mentoring businesses on the areas listed above Intergage also design and build websites using their bespoke Content Management System (CMS).
Fully integrated with the CMS is a video manager for those businesses concerned with on-site engagement.
To compliment the video manager, Intergage has a complete Web Video Production offering. Web video is an excellent way to raise awareness of a brand or to enhance a social media marketing strategy.
With web video Intergage are able to cover every aspect of a web marketing strategy for any business.
Managing Director, Paul Tansey, said: "We are delighted to be able to be the complete web marketing partner to local and national businesses of any size."
"We will continue to work alongside businesses, helping them to grow into profitable and prosperous enterprises" he added.
For more information about Intergage's digital marketing courses, management or web design please visit http://www.intergage.co.uk or contact Intergage Marketing Manager Emma Barrow on 0845 456 1022.
Notes For Editor
About Intergage
Intergage Ltd is the complete Web marketing partner, a leading UK digital marketing agency that continues to expand and recruit the brightest staff. It currently has two offices in Poole, Dorset and Chandler's Ford, Hampshire.
All Intergage services have a clear focus on providing their customers with a return on investment from their Web marketing.
Intergage Web marketing services include:
designing and building websites that enable clients to manage their own content using the unique Intergage Content Management System (CMS)
planning and managing Search Engine Optimisation (SEO), Pay Per Click (PPC) advertising, Digital PR and Social Media Marketing needs to ensure your site receives and successfully converts a steady stream of customer enquiries
comprehensive Web marketing training to empower you and enable you to manage SEO, PPC, Social Media and the Intergage Content Management System.
Intergage is committed to a long-term relationship with each and every client and is constantly seeking ways to improve your website results.
Intergage boasts more than 300 clients. Having started the business 11 years ago, Directors Paul and Gareth Tansey are proud to have retained at least 95 per cent of clients year on year.
For more information about Intergage, any of the services it provides or just to have a friendly chat with a team member, please visit http://www.intergage.co.uk or contact Marketing Manager Emma Barrow on 0845 456 1022, ebarrow@intergage.co.uk
Intergage Ltd (Dorset & Head Office)
Unit 8, Holes Bay Park
Sterte Avenue West
Poole
Dorset BH15 2AA
UK
Tel: 0845 456 1022
Tel: +44 (0)1202 684009
Fax: +44 (0)845 456 0722
Intergage Ltd (Hampshire Office)
3a Westlinks
Tollgate
Chandlers Ford
Hampshire SO53 3TG
UK
Tel: 0845 456 1022
Tel: +44 (0)23 8064 7005
Fax: +44 (0)845 456 0722