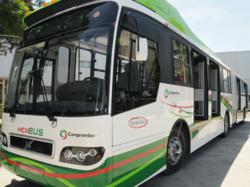 Eindhoven, Netherlands and Edomex, Mexico (PRWEB) May 07, 2013
NXP Semiconductors N.V. (NASDAQ: NXPI) today announced that MEXIBUS - the public transport operator in the federal state of Mexico – has selected MIFARE® DESFire® EV1 for its contactless smart ticketing solution. The new cards will ensure reliable and secure fare payment across the growing MEXIBUS network. In addition to secure smart card ICs, NXP is also providing the ICs in MEXIBUS's new readers. The ticketing system was integrated by Grupo Indi, using cards manufactured by ASK and Inteligensa.
MIFARE DESFire EV1 is a globally proven, flexible product platform for transport ticketing systems, enabling passengers to enjoy better journeys and public transport operators to improve the cost-efficiency and transaction speed of their systems. In addition to public transportation, the MIFARE DESFire platform also allows smart cards to be used for multiple applications such as bike rental, street parking or museum tickets.
Covering the area around the federal district of Mexico City, which itself has over 21 million residents, the federal state of Mexico has experienced rapid growth over the past few years, and now comprises over 15 million people. As the most densely populated region in Mexico, a more efficient and cost-effective urban transportation system is needed that limits the amount of cars on the roads while ensuring mobility in and around Mexico City. Convenient and efficient boarding, as enabled by the NXP solution, encourages the increased use of public transportation for a more sustainable urban life.
Seventeen contactless transport ticketing projects in Mexico are already based on NXP's MIFARE technology platform. The interoperability of these MIFARE-based urban transport systems with the new MEXIBUS system means that Public Transport Operators can offer a cost-efficient ticketing solution allowing passengers to use a single card for all journeys across the city and the federal state of Mexico. The MIFARE DESFire technology platform is also extendable beyond smart cards to other form factors such as NFC-enabled smart phones and banking cards.
"The MEXIBUS network will be extended with Lines 2 and 3 this year, creating the need for a reliable and interoperable ticketing solution that's ready to grow as we develop our mobility services," said Héctor Ilizaliturri, general manager of MEXIBUS at Grupo Indi.
"Electronic ticketing schemes must be convenient, reliable, affordable, secure and expandable to address the transportation challenges of rapidly growing urban areas," said Jorge Leal, general director at ASK Mexico. "This is why we have selected NXP's MIFARE technology for MEXIBUS's new contactless ticketing system."
"The world's most populated urban conglomerations such as Bangkok, London, Istanbul, New Delhi and the metropolitan area of Mexico City have all chosen secure, reliable and future-proof MIFARE public transport solutions from NXP to help create smarter and greener cities," said Ulrich Huewels, vice president and general manager, card security business line, NXP Semiconductors. "Using the MIFARE platform, public transport operators can expand into multi-modal ticketing solutions and offer their customers additional services such as NFC mobile ticketing, micro payment, parking or pre-paid metering."
According to a recent competitive assessment by ABI Research on Transportation and Ticketing Smart Cards and ICs, NXP achieved an overall transport ticketing market share of 77% in 2012. NXP scored high in both the implementation and innovation categories, underscoring its leadership in transportation and ticketing solutions utilizing NXP's MIFARE technology.
The MIFARE DESFire open architecture platform is based on open global standards for both air interfaces and cryptographic methods. MIFARE DESFire utilizes a triple DES, 3K DES, and AES hardware cryptographic engine for securing the data on the smartcards and data during transmission. Further, the MIFARE DESFire platform enables seamless extensions of ticketing solutions on banking cards or on NFC-enabled mobile devices both working with NXP's SmartMX® high security microcontroller technology. The MIFARE4Mobile technology is used to manage MIFARE based services in NFC mobile devices, from over-the-air installation to end-user interaction. The recently released MIFARE4Mobile specifications 2.0 aim to maximize interoperability and scalability, helping existing ecosystems expand into mobile solutions.
About Group Indi
GRUPO INDI has established itself as one of the leading construction consortia of Mexico. Since its founding in 1977, the group has faced many challenges that have allowed growth strengthened and have a comprehensive, well enter new projects and disciplines within the construction industry. http://www.grupoindi.com
About NXP Semiconductors
NXP Semiconductors N.V. (NASDAQ: NXPI) provides High Performance Mixed Signal and Standard Product solutions that leverage its leading RF, Analog, Power Management, Interface, Security and Digital Processing expertise. These innovations are used in a wide range of automotive, identification, wireless infrastructure, lighting, industrial, mobile, consumer and computing applications. A global semiconductor company with operations in more than 25 countries, NXP posted revenue of $4.36 billion in 2012. Additional information can be found by visiting http://www.nxp.com.

Note to Editors
MIFARE, MIFARE DESFire and SmartMX are registered trademarks or trademarks of NXP B.V. All other brands or product names are property of their respective holders.
Forward-looking Statements
This document includes forward-looking statements which include statements regarding NXP's business strategy, financial condition, results of operations and market data, as well as other statements that are not historical facts. By their nature, forward-looking statements are subject to numerous factors, risks and uncertainties that could cause actual outcomes and results to be materially different from those projected. Readers are cautioned not to place undue reliance on these forward-looking statements. Except for any ongoing obligation to disclose material information as required by the United States federal securities laws, NXP does not have any intention or obligation to publicly update or revise any forward-looking statements after NXP distributes this document, whether to reflect any future events or circumstances or otherwise. For a discussion of potential risks and uncertainties, please refer to the risk factors listed in NXP's SEC filings. Copies of NXP's SEC filings are available from the SEC website, http://www.sec.gov.
For further press information, please contact:
NXP Semiconductors
Americas:
Hillary Cain
+1 408 518 5227
hillary(dot)cain(at)nxp(dot)com
Greater China/APAC:
Lilian Li
+86 21 22052615
lilian(dot)li(at)nxp(dot)com
Europe/Global:
Michael Maader
+49 40 5613 3371
michael(dot)maader(at)nxp(dot)com