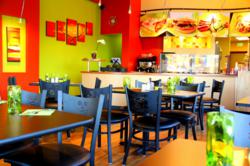 (PRWEB) May 08, 2013
Leading restaurant furniture supplier Affordable Seating has helped charming Yummy Café launch a successful re-opening, helping make this charming café more inviting.
Located at I-70 in picturesque Eagle, CO, the 1200 square foot Yummy Café offers quality cuisine, unique dishes, contemporary design and friendly service in a relaxed charming atmosphere with stunning mountain views. Patrons can find a diverse menu for breakfast, lunch and dinner.
When choosing furniture, Yummy Café owner Michael Zaharousky wanted stylish, quality seating at an affordable price. They chose classic metal café chairs for $37.50, café metal bars stools for only $56. With its comfort, elegance and styling, these modern chairs are very attractive and durable to the café's contemporary motif.
For the tables, the owner opted to go with solid reversible black and mahogany tops and table bases that start at only $22. These fit in beautifully with their contemporary décor and hardwood floors. These sturdy tables have a stunning, polished finish that will last for many years. This helped create a relaxed, appealing ambiance for local residents and travelers who are looking for a delicious meal at a good value.
Affordable Seating was happy to help Michael make the launch of Yummy Café a success. The wide selection of quality chairs, tables and stools helped Yummy Café to select the perfect furniture to add to the café's modern ambiance and selection of delectable entrées such as Italian Steak Panini for Lunch,Yummy Mussels, Grilled Salmon with Poblano Pepper Sauce for Dinner.
For more information visit http://www.affordableseating.net to browse its selection of restaurant chairs, bar stools, table tops, table bases, booths, patio furniture and sale items.
Yummy Café is located at: 313 Chambers Ave., Eagle, CO.
Visit their website at http://www.eagleyummycafe.com.