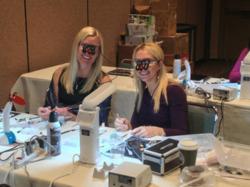 Cincinnati, Ohio (PRWEB) May 10, 2013
In recent weeks, Dr. Tara Hardin, of Hardin Advanced Dentistry, along with other industry experts from around the United States, converged upon Seattle to stay current on all the latest products and techniques of cosmetic dentistry. As an AACD member, Dr. Hardin belongs to the world's largest international cosmetic dental organization, committing herself to advancing excellence in the science and art of her field.
Dr. Hardin is dedicated to achieving AACD accreditation, which involves a rigorous clinical testing process. She actively participates in these annual scientific sessions, lectures, and workshops so her patients can benefit from the latest advancements in cosmetic dentistry.
Hardin Advanced Dentistry is located at 5350 Socialville-Foster Road in Mason, Ohio. More information about the practice can be found at http://www.hardindental.com.
###