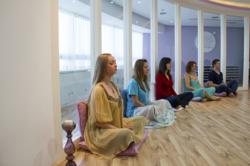 What we offer can change your inner soul.
(PRWEB) May 09, 2013
Everyone wants to live peaceful, happy, healthy, and balanced lived. Holistic well-being center, Illuminations, inspires individuals towards a journey of self-discovery as a key to lasting happiness.
Whether it's through daily meditation, self-empowerment workshops and seminars, holistic training programs and products, or private consultations, Illuminations in Dubai offers many platforms to find your inner peace.
People want to redirect their focus in life. Meditation is often accused of being self-centered and even selfish, but meditation practitioners and teachers will say the exact opposite. The simple act of being still inspires numerous acts of service, generosity, kindness and even activism.
No matter what kind of job we have, car we drive, or how big our TV is, many are still depressed, stressed and not happy. Everyone wants to have something that makes them happy, healthy, and feel that we live a meaning life. People are embarking on self-examinations to figure it out.
"Over the past ten years, the increase in spas, meditators, yoga centers and organic food offerings has proven that we are concerned for our health and inner body more than ever before," said Soniyaa Kiran Punjabi, founder of Illuminations.
Amazing figures proves this. The Global Country of World Peace says there are more than six million people worldwide that meditate; according to The Organic Monitor, an international research firm, global organic sales were at $54.9 billion in 2009, up from $50.9 billion in 2008; and according to the International Spa Association, there were 21,300 spas in 2008, up from 17,900 in 2007.
Illuminations satisfied this need 7 years ago for the Middle East and today is the premiere center for well-being and self-development in Dubai. They offer a diverse and integrated series of daily sessions, workshops and training courses to support individuals and companies.
Services at Illuminations are available for individuals, corporate professionals and young adults to avail from daily meditations, self-empowerment workshops and seminars, holistic training programs, private consultations, and holistic products. Illuminations help inspire people to rise above their limitations in order to unlock their unlimited potential within.
"We all know the importance of budgeting, but what we offer can change your inner soul, and is just one step in the importance of your health and wellness to live a long, healthy, peaceful life," said Punjabi. "If only once a week, your attitude, mental health, and your soul will be rejuvenated.
Illuminations hopes that by attending their well-being center, your life will be changed, your soul re-inspired and you will reach beyond yourself and into the possibility of a greater world through peace, health, spirituality, and a conscious life.
Illuminations is a Dubai-based holistic well-being center located in Jumeirah Lake Towers. The center was founded by Soniyaa Kiran Punjabi, with the intent of inspiring individuals towards a journey of self-discovery as a key to lasting happiness. The center offers a variety of services based on a holistic approach to self-development with the intention to provide a deeper insight into the mind-body-energy connection influencing the experience of life.