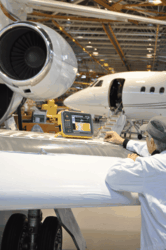 The Sonatest Prisma ultrasonic flaw detector merges state of the art technology with robust construction and modern colour aesthetics.
(PRWEB UK) 9 May 2013
Designed for non-invasive material testing (NDT) in the most extreme environments, the Prisma incorporates advanced real-time imaging and 3D scanning, making flaw interpretation much easier, therefore reducing technician time on site. Recognized design features include the advanced heat dissipation design, shock absorbing over-moulding, anti-vibration mounts, high-end waterproofing, outstanding user ergonomics and a highly engineered skeleton for enhanced robustness. These integral design features combined with advanced software and unique multiple inspection modes, enable the Prisma to step up to all testing applications in a variety of challenging environments; from oil, pipelines to high-end aerospace components. With integral data recording and automatic PDF report generation, the Prisma has wireless and ethernet connectivity allowing the unit to be easily upgraded or diagnosed remotely.
Those who succeed in winning their class group are able to associate themselves with the red dot branding and positioning within an internationally recognised field of product design appreciation and expertise. This year the red dot competition received 4,662 entries in 19 different categories. Only the best designs are able to win the enthusiasm of the jury, and this is exactly why the Prisma received the red dot recognition for its successful design creation.
Previous winners in 2012 of the Red Dot design awards from the Industry and Crafts competition include: Atlas Copco, Faro Scanner Production, Bosch, Karcher, Samsung, Hilti Corporation and Flir Systems amongst others; so Sonatest are proud to be recognised with the Prisma's Product Design at this level. Other industry leading companies who are also recent Red Dot Design winners are Apple Inc, Ozaki, Electrolux Italia, Sony, AEG, Lenovo, Volkswagen and Hewlet Packard to name a few.
Prof. Dr. Peter Zec, initiator and CEO of the red dot, has pointed out that strong design competence and economic success nowadays go hand in hand: "The winners of the 'red dot award: product design 2013' are the protagonists of a highly developed design culture and design industry. These days it is becoming more and more difficult to distinguish between well-designed products. It is often only in the details that the special qualities become apparent. However, those product creations that pass the test before the critical eyes of the international red dot jury will not fade into the crowd and will be able to fend off global competition."
Winners of the red dot recognition also benefit from their products being displayed in the red dot design museum. With around 2,000 products spread over an area of more than 4,000 sqm, the museum houses the largest exhibition of contemporary design worldwide.
Sonatest Ltd are very proud to acknowledge that this is the second award that the Prisma has won this year for outstanding product design and would also like to acknowledge and thank all those in the Sonatest and LA Design teams that have worked on this product development project.