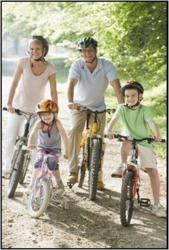 Southfield, MI (PRWEB) May 08, 2013
This week has been designated as Bicycle Helmet Safety Week. Bicycle Helmet Safety Week is an awareness campaign designated to help prevent injuries, particularly head injury and brain injury, and save lives by encouraging individuals to wear their helmet while bike riding and making them aware of the serious dangers and consequences if they do not wear a helmet and become involved in a bike accident.
The Michigan bike accident attorneys at Buckfire & Buckfire, P.C. represent bicyclists injured in all types of accidents, including car, truck, motorcycle, and hit and run. The personal injury law firm is a large advocate of this week as they see the tragic outcomes of a bicycle accident every day and understand the importance of wearing a helmet while riding and the protection it provides, especially to children.
When an individual wears a helmet while riding, the head injuries that may result may not be as catastrophic if a helmet is worn. In fact, according to the National Center for Statistics and Analysis, bicycle helmets are 85%-88% effective in eliminating or reducing fatalities and head injuries from bicycle accidents. This statistics proves how important it is for a bicyclist to wear a helmet while riding, and why Bicycle Helmet Safety Week is so vital, letting those who do not wear a safety helmet become aware of the dangers and easy safety measures that can be taken to protect themselves.
Besides wearing a helmet, there are other ways a bicyclist can protect themselves to help avoid accidents with motorists. These safety tips include:
1. Wear bright clothes - bicyclists should wear bright colored clothing and reflective gear even during the day to increase your visibility to motorists
2. Check for traffic- before entering or crossing any intersection, street, or driveway, make sure traffic is clear
3. Avoid wearing headphones- in some cities this is illegal but may not be strictly enforced, even so, wearing headphones while biking can be dangerous because of your inability to hear your surroundings.
4. Be aware of parked cars- people can open their doors at the most inopportune times. Make sure you allow yourself enough room to react.
About: Buckfire & Buckfire, P.C.
Buckfire & Buckfire, P.C. is a family-owned Michigan personal injury law representing victims injured in bicycle related accidents involving cars, trucks, motorcycle, and all other types of motor vehicle in Michigan on streets, roads, highways, and parking lots.
To learn more about the bike accident injury attorneys at Buckfire & Buckfire, P.C. call toll-free at (800) 606-1717 or visit the law firm website at http://www.BuckfireLaw.com